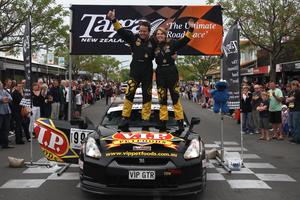 New Zealand motorsport has had more than its fair share of heroes over the years, and the odd dastardly villain to boot. This week, I had the pleasure of seeing the fruits of our latest motorsport hero's labour. And the kicker is - he's Scottish and based in Australia.
Now this in itself may seem good reason to disqualify the gent in question from the status of Kiwi motorsport hero, but he's achieved more here in a very short space of time than many of our racing stalwarts ever will.
Tony Quinn, VIP Petfoods boss and Targa GTR legend, has poured a vast pile of cash and an even larger chunk of time into a piece of land near Cromwell to create what is without doubt the most impressive motor racing complex that this country has ever seen.
Targa fans will recognise Quinn's name from the tarmac rally's leaderboard, which he has topped an unprecedented five times. His black VIP Petfoods GTR has chewed up and spat out much of the North Island at pace. He's a colourful character and is highly likely to tell you what he really thinks, in no uncertain terms, with words that I'd get fired for using here.
Quinn's soon-to-open Highlands Motorsport Park is nothing short of jaw-dropping - from the beautiful location to the seriously well-conceived race circuit and the on-site museum. There's nothing that hasn't been considered.
It's so good that the blokes Quinn bought Highlands from - Ian Begg, Grant Aitken, Allan Dippie and Scott O'Donnell - are still very much involved.
We visited the Cromwell facility for no reason other than it's very cool and we were driving past on an unrelated launch and, well, it was there.
The motorsport museum alone could keep a racing geek happy for days - a selection of cars running from Black Beauty, the Kiwi entry from the ill-fated A1GP series, to Porsche 911 GT3s for hot laps and even an ex-Inky Tulloch race truck.
Then there are the photographs - from Waimate to Dunedin, Roycroft to Dixon, it's all there.
The Highland Motorsport Park will be opened on Easter Saturday by Jim Richards and the museum's ribbon will be cut by Sir Colin Giltrap the next day. Already on the roster for the grand opening are Anne Thompson's 1906 Darracq, the McLaren M8 CanAm and Murph's NZ Supertourer and dozens of other race cars. The first lap record will be set by Craig Baird in Quinn's own McLaren MP412C-GT3.