Holden responds to owners' feedback for lineups latest models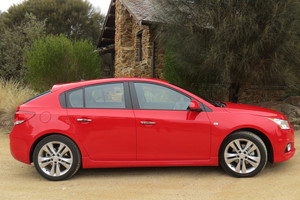 When the revamped Holden Cruze goes on sale across the Tasman, expect the locals to yell, "Aussie, Aussie, Aussie, oi, oi, oi".
The Australian car buyers are a patriotic bunch so when a product is locally built, that is pushed by the manufacturer as a big selling factor.
The 2014 model Cruze was produced at Holden's Adelaide plant, tested around the company's Lang Lang proving ground in Victoria and, just before final sign-off, trialled around the streets of Sydney.
Holden had also gathered feedback from owners of Cruze hatchbacks and sedans in Australia and New Zealand, and used that information over 18 months to revamp the runabout.
The Holden engineering team also decided to introduce a new 132kW 1.6-litre turbo petrol engine and second-generation six-speed automatic transmission to the Cruze range.
Work on the powertrain was complemented by revisions to Cruze's dynamic package, including developing a new wheel and tyre package and unique-for-Australasia sports suspension for the SRi and SRi-V sports models, plus comfort setting tune for Equipe and CDX petrol models.
But it was feedback from owners that the engineering team paid special attention to.
Holden Australia's chief engineer of compact cars, Anthony McCormack, told Driven that Sydney Cruze owners had complained about the car's transmission on hills and during rush-hour traffic.
So McCormack and his team, used to Melbourne's flat landscape, twice trialled the revamped Cruze. During the first time, the Holden team drove around Sydney's hilly suburbs during rush hour, even using people's driveways as testing spots. McCormack's team then calibrated the vehicle, resulting in the transmission having less delay and shorter shift times, as proven during the second trial around Sydney.
Holden Australia put the new Cruze line-up on display in Tasmania last week before it officially goes on sale in April in New Zealand.
The base model CD is replaced by Equipe with a starting price of $29,400 for the 1.8-litre manual with 1.4- and 2-litre autos in the line-up. The CDX sedan keeps the 1.8-litre auto while the fancier SRi and SRiV sedan and hatch range benefit from the new 1.6-litre engine.
All the 2014 badged Cruze sedans and hatches come with Holden's MyLink infotainment system that includes a 7in (17.7cm) colour touchscreen and app-enabled feature that allows the system to use internet music station Pandora and United States podcast station Stitcher.
Although as Driven correspondent David Linklater discovered, using Pandora or Stitcher in New Zealand could be costly (see below).
I took to the roads south of Hobart in the 1.4 auto sedan that Holden New Zealand's marketing manager, Marnie Samphier, says is aimed at fleet buyers, then on to the 1.6 manual SRi, before spending the next day north of the city in the CDX 1.8 auto sedan, and the SRiV and SRi models, both with the 1.6 auto combination and the addition of locally developed sports suspension.
Body-style I preferred the hatchback, while the 1.6 auto - with the bonus of sport mode - was my winning transmission.
The SRiV auto, which is priced at $39,400 and comes with 18in alloy wheels over the 17in tyres in the rest of the range, will be putting pressure on the likes of the Ford Focus, Mazda3 and Toyota Corolla for buyers looking for a car fancy enough to transport clients but sturdy enough for weekend use.
Although, after driving the roads of Tasmania on a Friday afternoon, the only weekend vehicles around were utes towing boats and they ambled slowly towards the coast and their fishing spots.
With the flat road ahead, I just put the SRi into sport mode, put my foot down and let the turbo engine do the rest.
Internet radio can be pricey
David Linklater reviewed MyLink in a Holden Barina, listening to Stitcher via his 3G phone:
''That means data. The possible downside of all this cool technology is that it's really easy to forget the car is using your cellphone data plan.
''Streaming radio consumes about 60MB an hour, so 1GB of data gets you up to 20 hours'
listening.
''That's something to be mindful of, since a typical smartphone data plan is 1-3GB a month.
''Once you've run out of data which you may well do a typical additional data charge of
20c per MB would mean you pay $12 an hour to listen to internet radio.''
-Driven, February 23, 2013.