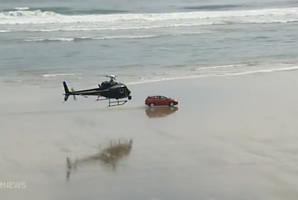 Hit show Top Gear has finished filming in Northland and some locals got close to the action.
A road-versus-water race was organised on popular Ninety Mile Beach this week.
It is understood Top Gear co-host Jeremy Clarkson was behind the wheel of a red Toyota Corolla hatchback seen zooming along the beach in a race to the Far North, while fellow host James May, on the America's Cup yacht Oracle, raced from the Coromandel Peninsula to the same destination.
The duel took place on Tuesday evening, but the cameras were out again yesterday - this time filming from above, in a helicopter - to get extra footage and to make sure all angles had been covered.
A large number of members of the local tribe, Ngati Kuri, were left a little star-struck.
Kaumatua Pineaha Murray told One News : "We had to hide ourselves because we couldn't be seen to be in the environment. So we were hiding there making out that we weren't there," he laughed.
Mr Murray was given the task of finishing the race with a blessing.
Local business owner Rose Spicer said she and husband David - who run the local sand surf business Ahikaa Adventures - saw a bit of the big race.
"We went down the Ninety Mile Beach, just for a walk and stuff, and on our way up from Scott Point we saw some lights flashing [and] a couple of cars came zooming round the corner and disappeared quick as," Mrs Spicer said.
"We sort of knew what it was."
A number of other locals were hesitant to give details of Tuesday's race or anything to do with the TV crew.
Graeme Neho, chairman of the Muriwhenua group of northern iwi, said he could not talk to the media because it was "Top Gear's story".
Ngati Kuri Trust Board chairman Harry Burkhardt said he could speak about Top Gear only after the crew had left the country.