Only 20 Kiwis will get their hands on one of these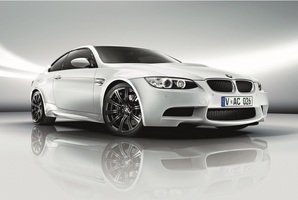 As it comes to the end of its production cycle, the much-loved BMW M3 coupe is getting a last hurrah in New Zealand with the launch of a limited edition model.
Called the M3 Pure Coupe, there will be only 20 vehicles nationwide, with the sports car gaining distinctive, sporty styling enhancements as well as exclusive BMW Individual content.
BMW NZ managing director Nina Englert says the new offering is the last opportunity for performance enthusiasts to get behind the wheel of the M3.
"The current M3 Coupe is the most accomplished and successful ever and the M3 Pure acknowledges this achievement by way of a special limited edition offer.
"The M3 Pure Coupe will give motoring fans the chance to secure a piece of BMW M history.
"This new edition will appeal to enthusiasts who desire a bespoke appearance and distinctive character, combined with the power and performance only an M3 can deliver."
Included as part of the M3 Pure Coupe edition are 19-inch M light alloy wheels, bonnet air vents in black high-gloss, kidney grille and side gills in dark chrome, exhaust tips in dark chrome and a handbrake lever featuring "M Power" stitching.
In addition to having all the performance credentials including rear-wheel drive, 50:50 weight balance and a powerful V8 petrol engine, the car has a definite collectibility factor. The new model is priced at $149,900.
"The M3 Pure Coupe has been tailored with the driving enthusiast in mind and sports a revised specification versus the standard M3 Coupe, but one which highlights the purist performance nature of the original M3," Englert says.
Included as standard are the Bi-Xenon headlights, Navigation System Professional, Bluetooth and USB audio interface, storage and lights package, anti-dazzle rear view mirror, park distance control front and rear and a carbon-fibre roof.
Interior features include anthracite cloth with black leather combination upholstered seats with the headrests crafted from black Novillo leather and embossed with the BMW M logo. A black leather carbon structure interior trim is also fitted as standard.
"BMW has a long and proud history of building performance cars," Englert says, "and I'm confident the M3 Pure Coupe will be another success."