How good would it be to be paid to thrash Astons? Jacqui Madelin meets a very happy man who is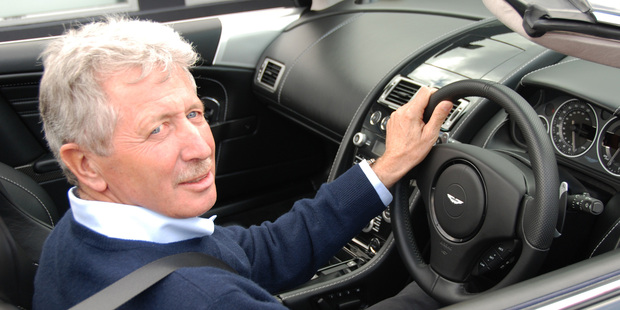 Les Goble taught James Bond to drive, and now Aston Martin's performance driving executive travels the globe, planning and running events for some of the world's most exclusive cars.
How do you get a job like that?
Twelve years ago he chatted trackside with Aston boss Dr Ulrich Bez. They agreed that if customers better understood driving dynamics they'd get more out of their cars. Two weeks later Bez rang with an offer.
Goble began designing driving courses that taught Aston owners about adaptive damping, gearshift maps, "stuff like that, and then the performance driving".
With the new V12 Vanquish, "I got my owners to drive the hill route at Millbrook proving ground in their own car - not fast, but to feel the suspension, the performance, the brakes for two laps - then jump into a Vanquish. When you do it back-to-back you realise how the engineering has moved on."
It's one of his favourite vehicles.
"That V12, it revs up to 7500 and it pulls. It's not like some big old labouring V8. It just gives you that punch in the back. It puts a smile on my face, that car."
Part of his course covers reading the road to get speed into, and through, corners. "A tyre can only do so much work. These are ordinary drivers, not racers, but the theory is the same. Go down a twisty road and it's all about car control, balance, smoothness, and you can take that theory to the track, where it's about smoothness, accuracy and consistency.
"Ayrton Senna said there's no such thing as the perfect lap, and if he can say that we've got no chance." Goble says of race drivers: "Their eyesight comes up, they anticipate. Get those techniques right and you're more economical, and because you're reading the road ahead, you're safer."
He started out racing European cars and still does - mainly shared drives with owners of cars like a DB4. "Standing on the podium at Spa two years ago after the 6-Hour, surviving six hours with 110 cars on the grid and getting a fast win, that's very special."
Most memorable drive? "Going 354km/h in a McLaren GT1.
"Driving with Stirling Moss is right up there. To be standing there, talking to Stirling Moss about the car and you think, just a minute, he's a legend and there's his name on the side of my car."
That would be Goble's racer - a Lotus Cortina at the Goodwood Revival. "It was 85kW. It's 138 now. Technology is moving on. The engineers are allowed to put better pistons in, change the camshaft profiles, but the block is original. The car is largely original"
Suspension, brakes and tyres have improved while he's been racing. "Today's Le Mans racers, they don't focus on the Mulsanne straight but the Porsche curves. If you can get through those as quickly as possible, the rest will just follow."
It doesn't always work. Racing a VW Beetle at Brands Hatch, "We were playing with tyre pressures, went down the bottom of Paddock Hill bend, back ... then the kerb was fairly abrasive and it just ripped the tyre off the rim and the car barrel-rolled all the way up. All I can remember is green-blue-green-blue then it went horribly quiet, and I was upside down and thought, it's not all over yet. Bam! It bent the roll cage, my helmet was smashed in. Thank God it was bolted together properly."
Les was in New Zealand to run a driving event at Taupo. Aston's On Track delivers performance events alongside On Tour, which is "not about driving at 1000mph for eight hours. It's about four or five hours of leisurely touring, staying at beautiful hotels." He runs 150 performance driving courses a year, track days and On Tour days, and is thinking about an event in Queenstown.
Favourite track? "Spa. Fast, flowing, undulating, character, wow factor. As a driver, every time I go through Eau Rouge and Raidillon I think, whew, made it! It's wonderful."
As for roads, America is relaxing to drive in - "the sheer space" - the UK is busy.
"It seems to me New Zealand and Australia are 100 per cent paranoid on the police and spend more time worrying about the police than you do driving. Overtaking is a nightmare as well. You pass a big lorry doing 98 and you're doing 100, you're in that danger zone so long."
And James Bond? "I taught Daniel Craig to drive for Casino Royale. He came to Gaydon [Aston's UK headquarters] and we drove the DB9 and DB6. Then we were in Prague where the scene of the tanker crashing through the coach was filmed, and we rented an airport, a live airfield, which made it interesting. He wanted to learn to toe and heel; I got him power-sliding out of a parking space and down the runway."
Is he ready to retire? Only if "I stopped enjoying it, but not yet. I'm not ready to sit down with a flat cap and put my feet up."