David Linklater looks at the revitalised Rover range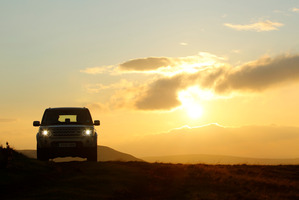 It's been Land Rover's time to shine in the past 12 months, with the launch of two of the most glamorous new cars on the market: the much-anticipated Evoque crossover and the all-new Range Rover.
There's not nearly as much bling in the updated Land Rover Freelander 2 and Discovery 4 ranges launched this week, but local importer Motorcorp Distributors Ltd (MDL) is promising improved driving dynamics and quality.
The facelift Freelander 2 is available in two models, both $66,000. The TD4 carries over the previous 2-litre turbo diesel, but a new 2-litre petrol four has been introduced to replace the previous six-cylinder model. The Si4 powerplant is carried over from the Evoque and gives the Freelander more straight-line speed and 14 per cent better fuel economy than the old six.
Exterior changes are minor: new grille, LED rear lights and circular daytime running lights up front. Inside, there's a new steering wheel, centre instrument panel and console and a new 5-inch TFT screen. Bluetooth, iPod connectivity and keyless start are all now standard.
You might ask why the Freelander exists when the Evoque has been so successful. The little Range Rover has been the top seller in the over-$60,000 compact-SUV segment, with a 25 per cent market share. Freelander's share is just 7 per cent.
It's partly price: Freelander is $66,000, while the cheapest Evoque is $80,000.
But Land Rover brand manager Paul Ricketts says there's more to it than that: "One has a Land Rover badge, the other is a Range Rover, so Land Rover promises the Freelander 2 and Discovery 4 will have improved driving dynamics and quality compared with previous models.
We think the Freelander's share will rise with this model.Paul Ricketts, Land Rover brand managerthey appeal in different ways. They attract different customers: Freelander buyers are generally younger, with families. Evoque appeals to empty nesters, or those without children."
As befits the more functional image, the Freelander is slightly better off-road due to superior ground clearance and approach/departure angles - although Ricketts acknowledges few of either model will ever venture into the rough stuff.
"We think the Freelander's share will rise with this model, especially with the addition of the Si4 petrol engine. Evoque sales in Auckland and Wellington are split 50/50 between petrol and diesel."
Further up the pecking order, Discovery 4 has gained an eight-speed automatic transmission and a new entry-level model, the TDV6 SE. This $99,500 machine has the same 3-litre turbo diesel as the more upmarket $124,000 TDV6 HSE, but makes 28kW/80Nm less (155kW/530Nm) and lacks the flagship model's power seats, satellite navigation and reversing camera.
Otherwise, the SE has the same off-road technology as the HSE, same-size 19in alloys (but in a different design) and seven leather upholstered seats. New in the cabin are a Range Rover-style rotary gearshift control and switch-operated Terrain response.
MDL will also have a limited-edition Discovery here in time for June's Feildays. As the name suggests, the Black Pack features blacked-out chrome (including full-length roof rails), black 20in wheels and tyres with black sidewalls.
What would a revamped Land Rover range be without a special-edition Defender? Also arriving in June, the LXV 65th anniversary edition will be available in a short-wheelbase 90 (four units) and long-wheelbase 110 (16 units) models.
After 65 years the R&D costs of Defender will have been well and truly amortised; nonetheless, this model is expected to have a pricetag in the $80,000 bracket.