BMW's Gran Coupe is a luxury sports car that will provoke envy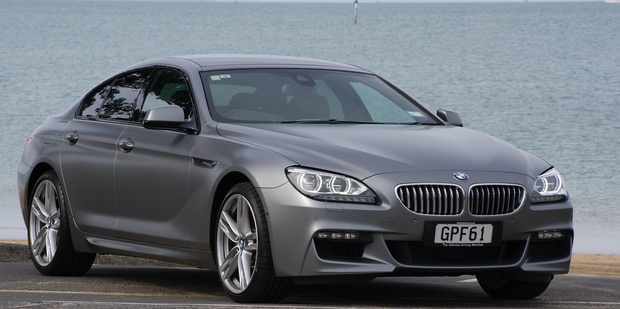 I, for one, admire the stream-of-consciousness thinking that brings us cars like the BMW Gran Coupe. I have no objection whatsoever to BMW calling it a four-door coupe.
Why not? Such a thing is entirely possible, even to those obsessed with the etymology of the word. Coupe, meaning "cut down", came into general use in the mid-18th century to describe a modified coach with an enclosed seat for passengers, with the driver seated outside. Coupes were usually for two passengers, but there were larger models for four.
So, a four-door coupe is perfectly OK, even if you're a pedant. Cars like the Gran Coupe, Mercedes-Benz CLS and Audi A7 may even be closer to the true meaning of coupe than any two-door sports car, because the original intention was passenger comfort first. It was never really about the driver.
The Gran Coupe pleases both passengers and driver. It's not necessarily about space: it has a low roofline, which cuts into rear headroom.
But there's a very obvious feeling of opulence when you're stretched out in the back, in a cosseting chair of leather.
While the dashboard is lifted from the 6 Series two-door, the door trims are unique to the Gran Coupe. BMW says the interior design is inspired by the interior of a luxury speedboat, which sounds laughable but does resonate when you're in it.
BMW hasn't fallen into the trap of making the Gran a four-seater only. There's a long centre console that runs right back to the rear seat, so there's no legroom for a centre passenger. But there is still a seatbelt there for emergencies. So you get the look and feel of a luxury four-seater, but without being completely impractical.
Oh, did I mention the 650i Gran Coupe is outrageously fast and handles like a sports car? In $224,500 twin-turbo V8 petrol form, as tested here, it boasts 330kW/650Nm and rockets to 100km/h in 4.6 seconds, which is seriously quick. There's also a 230kW/630Nm 640d diesel model that's not exactly slow (5.4sec). But the V8 is in the big leagues.
The Gran Coupe has a fundamentally fantastic chassis, bolstered by every driver aid you can think of. Standard are Adaptive Drive anti-roll bars, Dynamic Damper Control and Driver Experience Control, which lets you tailor the drivetrain and suspension behaviours to your will.
Almost everything else is standard, too, including Surround View parking cameras, Head-Up Display, Lane Warning systems (change/departure) and automatic parking. Although BMW will always give you high-priced options if you want them - such as our test car's $7000 "frozen" matte paint.
The only nagging doubt is how that stream-of-consciousness thinking led BMW around in such a big circle. Being a coupe, it belongs to the 6-series family. The two-door 6-series is based on the 5-series sedan so, essentially, the Grand Coupe is a four-door version of a two-door car based on a four-door car. That's funny. But perhaps irrelevant when it looks so much more sexy and elegant than the two-door and is arguably the most beautiful thing in BMW's range right now.
Besides, for a fashion statement, this is one car that's about much more than looks.
THE BOTTOM LINE
Is it a coupe or cool sedan? There's no need to decide: Gran Coupe looks awesome and can give any BMW M-car a run for its money performance-wise