Shipping a classic race car from the UK to race at Hampton Downs requires serious commitment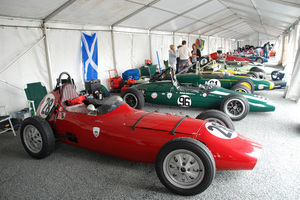 You'd have to be pretty keen on racing to bring a classic Formula Junior over from England to compete at the Hampton Downs Festival of Speed.
But you don't get a much keener petrolhead than Dave Bishop. After all, he's one of the men who saved the tooling that once made the British motoring industry.
He started out as an apprentice at Press Steel. "We made the bodies for Minis, Jag, Rolls-Royce, the Rootes Group - made about 12,000 bodies per week."
He worked in the industry from 1961 to 1983, then joined the British Motor Industry Heritage Trust.
The trust spun off from British Leyland, aiming to preserve the company's historic vehicles, and ended up at Gaydon, home to the Rover Group's design premises. When BMW took on the Rover Group it also owned the Heritage Trust. "It called us the English Patient," he says.
"When I picked up BMW was going to divest Rover Group I approached it and we became preferred buyers, we bought it and put a team together and when Mini packed up built the old Mini body."
These guys weren't suits, they were getting their hands dirty, certifying classic cars and turning out bodies built with the original tooling, "It was a great success and kept a lot of old cars on the road," as well as working on some new ones.
"The RV8 was only possible because of the rebirth of the MG body, and Heritage built the RV8 prototypes.
"We had the MG tooling and I found the Midget tooling and we did Midget bodies."
He's a highly entertaining fund of stories about all these exploits, and prone to pointing at a car from the constantly passing parade in the Hampton Downs pits, then explaining his company's part in its construction.
But now he's retired, and here to race his Elva, by his own admission near the back, but having fun.
"Winning isn't important, it's having a good race with anyone, anywhere on the grid - you can have as good a race at the back as at the front."
He's part of a contingent of 11 Brits who loaded their cars into a container to head south, several taking motorhome tours between events while he and his wife, Janet, return to Taupo, their escape each year from British winters.
He's had his 1959 Elva FJ 100 since 1992, when he bought it off another Brit, also here racing. "We negotiated on the start-finish of the Monaco GP."
It's number 76 of about 110 built, designed for Formula Junior events and powered by a 1098cc Mini Cooper motor, a Swift tune engine "recognised as the best tuners of that engine, they're very good".
"It revs to 8000rpm, not too often but it will," though he tells the man behind him at the finish that it was limping along at 4000 - there's nothing like psyching out the opposition. It's not especially powerful, but then the car only weighs about 440kg, sitting on 15-inch cast magnesium wheels with independent front suspension and transverse wishbone rear with coil springs and telescopic shocks.
Dave does all his own maintenance and pretty much gets to race it whenever he wants, "They're wonderful cars and there are so many races for them we could virtually race every weekend."
And with that, he pulls his helmet on, fires the engine and heads out to the grid for another race in a summer season Down Under.