'Coming through,' says this Benz baby's grille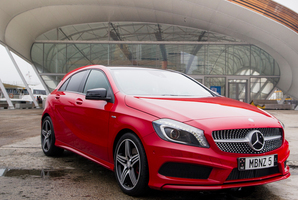 It's no more Mr Nice Guy for the Mercedes-Benz A-Class. No more "sure, boy racer I'll move lanes so you can overtake me". No more "no problem, ma'am, you can steal my carpark".
Instead, Mercedes has upped its testosterone level (no performance-enhancing drugs here, though) with its 250 Sport model of the revamped hatchback.
The previous A-Class was a tall, genteel creature favoured by well-off retirees. The shorter, sleeker, new A-Class has been designed to take on its German opponents - the Audi A1, BMW 1 Series and Volkswagen's Golf.
But the 250 Sport goes further - by aiming at the A3 Sportback, BMW's M model 1 Series and the sports hatchback dominator, the Golf GTi.
It packs a 2-litre, four cylinder, direct injection turbo petrol engine with 155kW of power and 350Nm of torque. It hits 0-100km/h in 6.6 seconds with the fuel economy of 6.6litres/100km - although if you try to hit the 6.6-second mark every time you launch yourself at the motorway, you certainly won't get the economy claim.
By the time I handed back the A-Class Sport after four days of Auckland driving, my fuel "economy" was 11.5l/100km. Oops.
Added to the engine is a seven-speed dual clutch transmission, lowered AMG-tuned sports suspension and a dual sports exhaust system plus 18in AMG five-spoke wheels and a panoramic sunroof, with a price tag of $64,900. My test vehicle had the AMG package added to round up the final price to 74,470. The package includes red badged AMG brake callipers, black leather interior with snazzy red trim, electric seats, a satnav stereo system and driving assistance programme that includes distronic plus (it keeps you a set distance from the car in front), blind spot assist (yellow moving to red triangles in side mirrors) and lane-keeping assist (juddering through the steering wheel if you move across lanes).
Officially launched yesterday in Melbourne, the souped up hatch will join base entry A-Class models in New Zealand showrooms next month.
This sporty A-Class is also sure to gain a new fan base for Mercedes-Benz NZ, judging from the reaction to my test vehicle. Within a minute of parking the five-door five-seater, at the New Zealand Herald's loading dock, two 50-something male visitors to the building swooped on the car.
"I saw the front grille and the large badge and thought it couldn't be a Mercedes because I'd never seen one like this," said Visitor One.
Visitor Two nodded as he studied the head-turning diamond grille that is accentuated by the xenon headlights. It's a powerful combination that creates a strong road presence - you've been warned, Golf GTi!
During my inner city drive, at least six men did double takes, one nearly falling off a pavement and another stalked me in his car to my supermarket carpark so he could check out the A-Class.
Stalker peered inside the car and was impressed with the masculine layout. The dashboard gains a sporty look thanks to that red stitching and spoke air vents, while the middle console layout is clean lines. That's due to the gear stick relocating from the centre console to become a steering wheel stalk, and the hand brake, now an electric brake, hidden near the steering wheel.
It takes a few hours on the road to adjust to the right-handed gear stalk. Stopped at lights, photographer Ted Baghurst suggested I turn left ... so I pushed the right stalk up - and the car moved into reverse. Luckily my foot was on the brake - but it was a sharp lesson.
But, during the waterfront photo shoot, a truck driver - waiting to unload his rig - came over for a chat. I mentioned the gear stalk.
"Yeah, that's what's in my truck, actually most new trucks," he said nonchalantly.
I glanced at his large truck, back at my small hatch, and decided the stalk wasn't a big deal.
And once you're on the road you can forget altogether about the stalk.
Heading on to the motorway, a slight touch of the accelerator and the car leaps ahead and maintains that power effortlessly. It automatically defaults to economy mode but a push of a button on the dash moves you into sport or manual model.
The sport selection is best suited to tearing along winding roads when you need a surge of power that hits at 4000rpm, whereas in economy mode the gears move up at 2000rpm.
If you feel like working you can select manual mode and use steering wheel paddles to move through the gears. Add sport mode and sport suspension and you're got tight, thrilling driving instead of the usual mundane commuter drive.
Of course, there's nothing mundane about this sports hatch - it's an impressive looking machine that boosts the performance to make the German competitors worried.