Suzuki's Swift hits new peak and keeps on making friends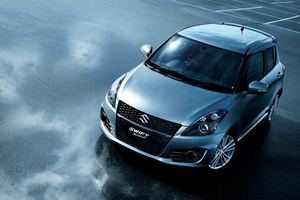 Suzuki's multi-award winning Swift has reached another milestone, with international sales passing three million in January.
First produced and sold in 2004, the stylish Swift has reached the three million sales mark in just over eight years.
The figure also shows the growing popularity of the car, which passed the two million sales mark two years ago, in January 2011.
The Swift is produced around the world at plants including Hungary, India, and China. Last March, production and distribution also began in Thailand.
Today, the Swift is a staple of the light car diet in more than 120 countries and regions.
Named Carsguide Car of the Year in 2005, the Swift has accumulated numerous awards.
In Japan, it has twice won the RJC (Automotive Researchers' and Journalists' Conference of Japan) Car of the Year award, in 2006 and 2011.
The Swift had a full model change in 2010, gaining seven airbags and electronic stability control as standard equipment, while maintaining its core values of stylish design, fun to drive handling and outstanding value for money.
In New Zealand, the Swift is often top-selling new car in monthly sales figures, knocking off the Toyota Corolla.
Last year 3321 new Swifts were sold in New Zealand, giving it second spot for best sellers.
India remains the world's biggest market for Swift, accounting for 45 per cent of total sales.

Milestones
Nov 2004: First-generation Swift as a world strategic model is released and launched in Japan
Feb 2005: Production begins in Hungary
May 2005: Production begins in India
June 2005: Production begins in China
Sep 2005: Swift Sport is released in Japan
Nov 2005: Swift wins 2006 RJC Car of the Year
Dec 2005: Swift wins CarsGuide Car of the Year
Jan 2006: Swift wins 2006 Indian Car of the Year
June 2008: Cumulative worldwide production reaches one million units
June 2010: Production of new (second-generation) Swift for Europe begins at Magyar Suzuki in Hungary
Sep 2010: New (second-generation) Swift is launched in Japan
Nov 2010: New Swift wins 2011 RJC Car of the Year
Jan 2011: Cumulative worldwide sales reach two million units
March 2012: Production begins in Thailand
Jan 2013: Cumulative worldwide sales reach three million units