Enthusiasts for European models cite safety and driving comfort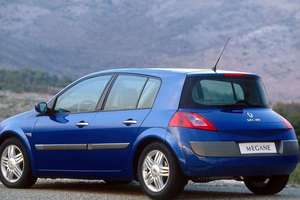 The dilemma:
Roger, a mechanic who has run his own shop for the past 30 years, is a regular Driven reader and a fan of the Buyers' Guide column.
Although he understands why, he still gets a little disappointed that older European cars get overlooked in favour of the mainstream Japanese brands when buying recommendations are being made in the $10,000 region.
"I see the good and bad of most of the older makes and models on our roads and believe a lot of expensive repairs can be put down to simply poor servicing," he says. "While the Europeans may see a little more garage time than some other vehicles, I still enjoy the driving experience, comfort and feeling of safety that my 2003 Renault Megane offers."
He has always driven manuals which he firmly believes eliminate a lot of risk with European ownership.
"I have no plans to change the Renault any time soon and, when I do, it will be another Euro for sure," Roger says.
You'll agree, Roger, that the European manufacturers saw safety, design and driving comfort as a high priority long before their Japanese and Korean rivals. And I accept that poor servicing can lead to expensive repairs on any vehicle. But the reality is that older Japanese vehicles in particular enjoy a better overall reliability record. There's no doubt, however, that European styling and driving pleasure does, for many drivers, create a compelling reason to buy.
The budget: $10,000
Renault Megane
Come highly spec'd and are certainly a standout from the crowd with their unorthodox rear end. Some owners claim impressive fuel consumption figures of 6.5l/100km with manual transmission variants. A two-door coupe with a folding hard top may also appeal but it does escalate the risk factor.
Citroen C4
This roomy five-door hatch diesel manual may not be a bad option for those looking at alternatives and something a little different.
It has the not unexpected Citroen quirkiness of a light sensitive centrally mounted instrument display along with fixed centre mounted steering wheel controls.
The 1.6 litre engine packs a reasonable punch and delivers low fuel consumption of around 4.7l/100km.
Peugeot 307
The Peugeot brand has a small but loyal following in New Zealand.
Most of the long-termers have lived in hope that the quality and reliability improves with every new model, which it has in recent years.
Plenty to like in terms of safety and occupant comforts but automatic transmission performance was never one the R&D team's strong points.
Driven recommends
Whatever you buy, reduce risks by getting a thorough pre-purchase inspection and stick with New Zealand-new with a long and well-documented ownership and service history.
I'm also the proud owner of a European vehicle. It's a genuine Peugeot 107 pedal-car that takes pride of place sitting in the front entrance of my house. Certainly no reliability issues to date.

For car advice, email driven@apn.co.nz