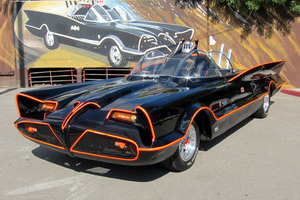 "Holy windfall, Batman!" The Batmobile has just sold for US$4.2 million ($5 million).
The original black, bubble-topped car used in the 1960s Batman TV show sold at auction over the weekend.
The Barrett-Jackson Auction in Scottsdale, Arizona, supplied the selling price but did not give the winning bidder's name.
The car's owner - auto customiser George Barris, of Los Angeles - transformed a one-of-a-kind 1955 Lincoln Futura concept car into the sleek crime-fighting machine. It boasted lasers and a Batphone and could lay down smoke screens and oil slicks.
Meanwhile, the nearby Gooding & Company auction house realised US$28 million in sales for 48 lots sold, on day one of its annual Scottsdale auctions.
The top-selling lot, an US$8.25 million 1958 Ferrari 250 GT LWB California Spider (below), broke records for a steel LWB California Spider and is the most valuable car ever sold in Arizona auction week's history.