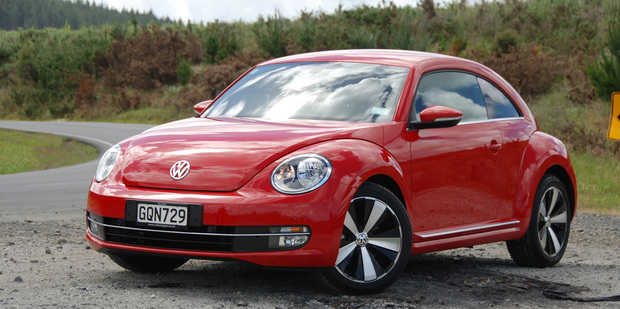 The first new Beetle virtually caused a riot when I drove it round Auckland with 30km on the clock, back in 1998. The Golf in retro clothes seemed a gamble, but the car was a success. Now there's another new Beetle, renamed The Beetle to underline the update.
What's new
The Beetle's flatter roof and fresh design flourishes retain the classic references, while losing the whimsy in favour of a stronger look. The cabin has been worked over, the car now sits on the more modern Golf 6, the conventional auto was replaced by a seven-speed DSG and the car gets a perky 118kW/240Nm 1.4-litre motor that uses both turbo and supercharging for delivery that feels stronger than the previous GTI version. Boosted specs include park distance control and 18-inch alloy wheels, with price set at $46,500.
The company line European markets still languish but VW is doing well worldwide and locally where sales lifted 13.1 per cent last year. General manager Tom Ruddenklau must still fill a few gaps in his portfolio - he'd love a seven-seat SUV - and perception issues regarding cost to service and parts availability.
A massive new parts warehouse opening in April should address the latter while a busy year with more new or refreshed model lines in eight of the next 11 months will keep the VW name in front of potential customers - not least when the new-generation Golf arrives next month.
As for extending Beetle's engine range, that will depend on demand, as will future variants such as the 50s, 60s, 70s and Fender editions.
What we say
The Beetle is certainly more practical, especially for those carrying rear passengers. Though the roofline has dropped 12mm, its flatter profile adds 10mm to rear headroom, while 152mm of extra length goes mostly to the rear, where the boot is now 310 litres, well up on its predecessor's 209.
We like the new cabin, especially the coloured dash that recalls the original. It comes complete with an old-fashioned fascia glovebox with a neat lever mechanism, as well as the conventional item below.
On the road
The Beetle feels slightly less assured at speed than Golf, and less precise during vigorous cornering with more - or more noticeable - body roll, though the ride is composed enough and the wider track does impart plenty of grip.
The narrow powerband might annoy, though its pep is bound to please, as will the 6.2l/100km claimed thirst.
Why you'll buy one
You love the stronger look to the retro styling, its greater practicality and visual character.
Why you won't
You'll await replacement of the torsion beam rear suspension by a multilink set-up and hope it imparts a more dynamic feel; your two rear passengers are more than 168cm in height.