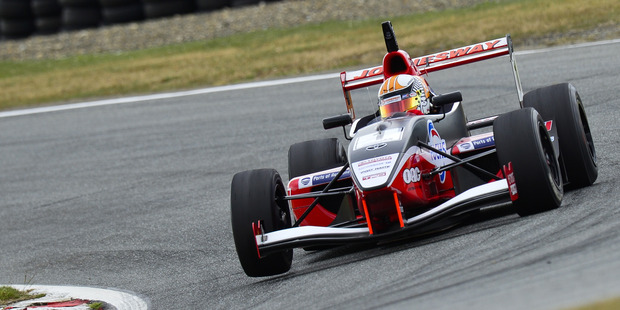 International drivers have claimed the top three spots in the Toyota Racing Series as all 18 drivers settle into qualifying today in round two of the championship in Timaru.
Puerto Rican Felix Serralles leads after the opening round at Teretonga with Austrian Lucas Auer in second and Brazilian Pipo Derani rounding out the podium.
"I now have to take the same good form [Teretonga] to the next round in Timaru and hope I get even more good points," says Serralles.
Defending TRS champion New Zealander Nick Cassidy is not overly concerned about his fourth place in the championship after one round as he knows there's a lot of water to go under the bridge yet. Twelve more races, in fact.
He moved from his championship winning team of last year, Giles Motorsport, to set up camp with M2 Competition. The Aucklander is well aware of the challenges of melding with a new team but is quietly confident the progress they've made so far proves he's more than capable of picking up wins.
"M2 have always had fast cars and last weekend [Teretonga] we showed we have good car," said Cassidy. "In race one we were second fastest and in race two we were fastest. In race three we were very strong. There was not much passing in the first two races but we picked up eight places in race three.
"We got some good data from Teretonga but Timaru is a different, more technical sort of track so we'll need to work hard in practice."
Others to watch over the weekend will be Brazilian Bruno Bonifacio, fifth in the series, who has returned to TRS for a second time and is going to be competitive all the way through.
There's also Brit Alex Lynn, who's in seventh despite a monster crash and no points in the feature race. He picked up two tidy third places in the opening races and looked in good nick to grab another podium in race three.
However, the wheels literally came off as he was catapulted straight up in the air after hitting a tyre barrier at around 210km/h at the end of the front straight. Uninjured, Lynn has his tail feathers up and is very keen to grab a bundle of points this weekend.
"I feel really good and there's no bodily damage from the crash," says Lynn. "During practice I was second and third so everything is all OK and looking good for the weekend.
"If I do a good job and the team does a good job there's no reason we won't be back on the podium and even winning races. If we can do that for the rest of the championship there's no doubt we'll be in the thick of it at the end of the season."
In the new generation NZV8s, Australian Jason Bargwanna leads Martin Short by just one point and, in the older category, AJ Lauder leads his brother Brad.

TRS championship
1. Felix Serralles Puerto Rico 196
2. Lucas Auer Austria 191
3. Pipo Derani Brazil 169
4. Nick Cassidy New Zealand 160
5. Bruno Bonifacio Brazil 145
6. Steijn Schothorst Netherlands 144
7. Alex Lynn UK 120
8. Damon Leitch New Zealand 117