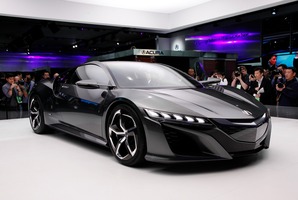 Headlights, grilles and other doodads are stepping up and popping out on cars from daytime running lights up the hood of the new Cadillac ATS, to a wide, bold grille on the Ford Fusion, to engraving within the lamps of the new Corvette and Ford Transit.
They are inexpensive but distinctive, providing automotive eye candy that can even boost fuel economy or improve safety.
Car bling is in abundance at this week's North American International Auto Show, with some interesting things adorning vehicles on the show floor:

Fetching etching
Peering into the lamps of some vehicles reveals tiny engravings inside, like figures inside a snow globe.
Headlights in the splashy new Corvette contain the brand's crossed-flag logo, and the utilitarian Ford Connect has Ford's Blue Oval logo in a seven-sided shape.
The new Jeep Grand Cherokee has a miniature vintage Jeep silhouette and the phrase, ''Since 1941'', referring to the year Jeeps began.

Line of sight
Distinctive lights abound and a prime example graces the front of the new sport sedan Cadillac ATS.

The car's daytime running lights go up the top of the fender along the hood line. They contribute to an overall angular, edgy design.
Osram Automotive supplies lighting components for the ATS and other Cadillacs. David Hulick, the company's global marketing director of solid state lighting, says the ATS benefits from hidden LEDs, or light-emitting diodes, which offer an ''intense, white appearance'' that can't be duplicated with traditional bulbs.
Hulick says getting more out of illumination was the impetus behind the first automotive use of LEDs in exterior lighting: a mid-1990s Ford Thunderbird. He said that model used ''super-red LEDs with a neon look'', something that ''couldn't be achieved with traditional technology''.

Hot off the grille
Ford is heating up its grilles, particularly its Fusion model. The Fusion jettisoned the old, bulky shutters and embraced a wide, bold grille with thin blades.
Consumer Reports' Jake Fisher says the grille helps the mid-size family sedan ''evoke the
looks of an Aston-Martin'' without adding to the bottom line.
Other grilles are also providing artistic thrills: in the right light, the brushed-metal grille of Hyundai's new luxury concept car shows off at least a dozen small inverted triangles that appear behind horizontal bars. The grille has a bunch of tiny holes and the angles reflect light. It's one of many new styling cues on the HCD-14 Genesis, which Hyundai
says is the direction it will take the next generation of its luxury cars, the Genesis and Equus.