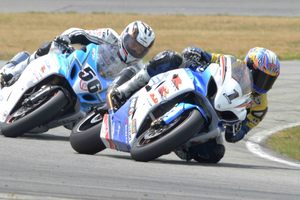 With leading New Zealand Superbike rider Andrew Stroud out of this year's championship, it's been left to the rest of the Kiwi riders to keep Australian Robbie Bugden in check.
Things didn't quite work out at the opening round of the series at Ruapuna, January 5-6, where Bugden won both races from a hard chasing Craig Shirriffs.
Arriving at Timaru for round two, Shirriffs felt he just about had the measure of Bugden and so it was. Bugden did in fact win the first race but Shirriffs ended the Aussie's dominance in race two.
Shirriffs pulled the heart-in-the-mouth move of the day on Bugden towards the end of the race. Shirriffs shadowed the Aussie through most of the second race and pounced, braking very late and shooting up the inside as they went into the chicane before the final straight.
"That was my plan all along. I was faster than him there and if I'd passed him anywhere else he would have got me back," said Shirriffs.
"I went in a bit hot and ran wide. Robbie said afterwards he thought I wasn't going to make the corner.
"I wanted to do the same in race one but I wasn't fast enough out of the corner before the chicane."
Fellow Kiwi rider Nick Cole was also in the hunt during the closing laps and had caught up with the leading pair and was right behind Shirriffs but ran out of race time.
Bugden now leads Shirriffs by 10 points, with Dennis Charlett third in his return to the superbike class.
The first 600cc Supersport race was run in the rain and saw plenty of action, including a few crashes. Seth Devereux was the bravest and he pushed his Kawasaki hard to record his first victory in this class, heading off Rhys Holmes and Jeremy Holmes (no relation).
Rhys Holmes also posted a first in the second race, claiming his debut class victory on his Yamaha in a frenetic race in which the top six all ran very close and positions changed constantly. Jake Lewis took second, also on a Yamaha, while some of the bigger names fell by the wayside.
Category hotshot Jaden Hassan was sharing the lead in the Supersport class but came unstuck during Saturday's qualifying. He was high-sided from his Yamaha and the resulting face plant on to the track damaged his wrists.
Ross now leads the championship from Jake Lewis and Rhys Homes with Hassan fourth.
Australian teenagers Luke Burgess and Troy Guenther lead their categories, 250 Production and 125 GP respectively. Burgess is now the only rider in any class with a perfect record of victories in all his races.
Leaders in other classes are: Superlite, Richard Newbery; Pro Twins, Hamish Murphy; and sidecars, Spike Taylor/Astrid Hartnell.