The new Bentley should be a winner with New Zealanders.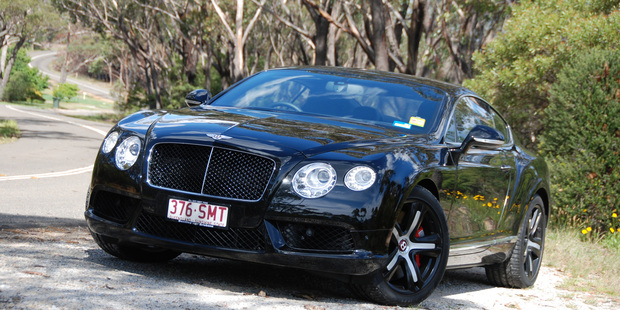 A more aggressive-looking V8-engined Bentley Continental could boost sales and take the brand to a younger buyer.
What's new
The model that revitalised Bentley when it first launched in 2003 got a mild facelift for 2012. It's wider - the body by 40mm, the track by 41mm and front and rear by 48mm. It is also lighter by 65kg and boasts reduced drag and better aerodynamics, while a smaller steering wheel accesses a slightly sharper steering rack.
Then there's the Audi-sourced 4.0-litre V8 engine, with 373kW and 660Nm - just 50kW and 40Nm less than the 6.0-litre W12. Mated to an eight-speed ZF auto it dispatches the zero to 100 in 4.8 seconds. Eight speeds plus cylinder deactivation keep thirst pinned to a 10.5-litre/100km claim, though we netted 15.3 after a mix of city, highway and on-track driving.
The company line
Paul Shorter, the face of Bentley NZ for 27 years, says a more aggressive-looking V8 will suit Kiwi buyers and will outsell the W12.
What we say
For all its gloriously opulent interior and impressive craftsmanship the car's not quite perfect - I kept tapping a gearchange paddle when I wanted the indicators, and would prefer a one-step adjustment for the suspension, instead of a button on the transmission tunnel accessing a choice of comfort to sport via the touch screen.
But you'd get used to the indicators and unwieldy suspension adjust, and this car will sell well here. New Zealanders like a V8, and though this is a bulky 2295kg car, it remains a winnerwhich can cross continents or cities in cosseting comfort yet respond vigorously when the road tightens up.
On the road
Our drive from Sydney into the Blue Mountains delivered highway, byway and a couple of lurid single lane kilometres that proved how unflappable this car is. Overcook it into a bend and it hauls on round, only a hint of tyre whine suggesting the car is nearing its limit. Then select sport, press the go-pedal and access that magnificent deep-throated roar ... We tested it on a privately-owned 5km circuit with almost 90 corners including cambers and combinations so tricky even the landowner rarely admits to a perfect lap. Yet it proved not only how improbably quick this GT and GT convertible are if you get your lines right, but how forgiving the big car is when you get it wrong and how phenomenal the brakes are.
Why you'll buy one?
You seek elegance and luxury in mile-munching comfort from a car capable of a brisk boogie through bends. And it sounds superb.
Why you won't?
There are better performance cars for $325,000; you want bigger back seats