Suzuki's Grand Vitara has a little bit of work done, but you'll struggle to spot the differences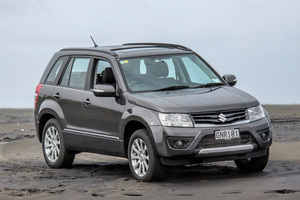 Why, darling, you've hardly aged a day. How do you do it?
Good basic design, probably. The Suzuki Grand Vitara has just emerged from a small facelift even though it could have gone untouched, so well-penned were the body lines of the third-generation when it appeared seven years ago.
It's much the same with engine and driveline. The four-speed automatic is down a ratio or two on what they'd probably offer if introduced today but there's little else to betray that this has been the setup for years.
And it's good to see Suzuki didn't quietly drop low-range gearing in the facelift. It's still there, worked by a rotary dial on the dash, to give the Grand Vitara off-road ability that goes far beyond today's typical suburbanised SUV.
The Grand Vitara's main problem is that ground clearance isn't up to seriously rutted tracks and the Dunlop SP Sport tyres are very much street-oriented, although they perform well in sand.
Not to worry - few people buy Grand Vitaras these days to go serious off-roading or, in fact, to do any sort of off-roading.
For this very reason, Suzuki NZ has finally relented and added a two-wheel-drive, a configuration popular in some other parts of the world. The 2WD five-door JLX lists for $34,990 in automatic, compared to $41,990 for the 2.4 LTD 4WD that Driven's been trying.
The difference in price is due to much more than the drive configuration. The LTD is top dog in the model lineup, with leather upholstery to electric sliding sunroof and an integrated Garmin satnav.
This top-spec package is all very nice, except for a couple of things. Suzuki really needs to lighten up its slightly sombre ambience. It would also be good if they'd added parking warning sensors, if not a rear-view camera.
These cost little to fit and some manufacturers have them as standard on SUVs less grand than the Vitara.
With 122kW of power and 225Nm of torque at 4000rpm, the Grand Vitara is not awash with grunt, but it's lively enough and rated for 9.9 litres per 100km, overall.
As ever, the Grand Vitara rides and handles well, for what it is. It sits on redesigned 18-inch alloys with 225/60 tyres.
Here's something a bit different: brake override has been added to mitigate those "oops" moments when the accelerator and brake pedals are pressed at the same time. Sensors work with the computer to safely slow the vehicle.
This facelift may be Grand Vitara's last hurrah before a redesigned model appears, but buy with confidence: there's plenty of life left in it yet.

Bottom line
Suzuki's 4WD flagship is Grand enough for another few years
Also consider
The market is awash with Grand Vitara rivals, some with better specifications and more refined, but usually quite a bit more expensive.
Among the competitors:
Nissan X-Trail Ti $49,990
Subaru Forester XT $52,490
Toyota RAV4 LTD $48,990
Volkswagen Tiguan TSi $49,500