Mercedes full of bright ideas to re-establish S-Class as flagship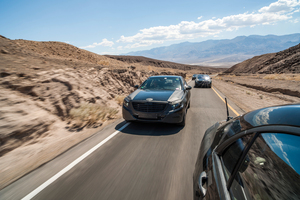 We don't know what the next S-Class, due next year, will look like, but Mercedes has been lifting the lid on some of the fancy new technology that will be going into its future flagship.
One interesting feature is that if you buy an S-Class you may never have to replace a blown lightbulb again.
Every single conventional bulb, internal or external, has been replaced with energy-saving LEDs which Mercedes is promising will last the life of the car.
Among the other standard or optional systems, which Mercedes offers under the banner of "Intelligent Drive", are:
*Distronic Plus with Steering Assist, a system that helps a driver to guide the S-Class within its lane and to follow the vehicle in front in slow-moving traffic automatically.
*Brake Assist system BAS Plus with Cross-Traffic Assist, which is able to detect traffic or pedestrians approaching from the side and boost the braking power applied by the driver accordingly
*Pre-Safe Brake, which can detect pedestrians and brake the car autonomously to avoid a collision at speeds up to 50km/h.
*Pre-Safe Plus, which can recognise an impending rear-end collision and trigger occupant protection measures in response. It can also apply the stationary vehicle's brakes in the event of a rear-end collision in order to prevent a secondary impact.
*Active Lane Keeping Assist, which is able to detect oncoming traffic and prevent the S-Class from leaving its lane by applying the brakes on one side of the car.
*Adaptive Highbeam Assist Plus, which allows the S-Class' headlights to be kept on full beam without dazzling other drivers by masking out vehicles within range of the beams' cone of light.
*Night View Assist Plus, which can alert a driver to the danger posed by pedestrians or animals in unlit areas in front of the car by switching the speedometer display to a night view image and highlighting the hazard. A spotlight function is also able to flash at any pedestrians detected.
*Attention Assist, a drowsiness warning system.
All of this new technology should help the S-Class to re-establish itself as Mercedes' undisputed top car, now that the unsuccessful experiment to establish Maybach as a luxury brand has been abandoned.

-Independent