Toyota's Land Cruiser double-cab wasn't born Downunder, but it's a favourite adopted son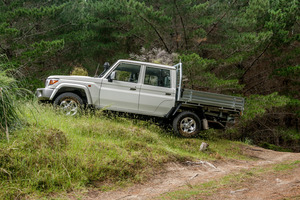 If vehicles had human characteristics, this one might be the barroom brawler - big, tough, mean looks and clearly in no mood to be messed about.
On the other hand, once you get to know him, he's rather a sweet guy, just like mother always said.
We're talking Land Cruiser 70 double cab flat-deck here, but first a bit of family history.
Toyota has been building versions of this mega-ute since late1984 for tough working conditions in rough parts of the world. The Land Rover Defender doesn't have exclusive rights to 4WD design longevity.
In New Zealand, the 70's been a favourite of high-country famers for whom run-of-mill one-tonne Japanese utes weren't up to the job. They bought single cabs or wagons but there was strong demand for a double cab and, for years, Toyota in New Zealand and Australia petitioned Head Office to build one.
The factory finally relented and now one of these bruisers can be yours for $73,390 or $79,590 for the ''luxury'' LX version, the model with all its teeth in a nice row.
If you want to carry max load day in-day out in a war zone, a high-country farm or a nearby mine, this the truck.
Its chassis is massive, everything about the ute is heavy-duty including its motor, Toyota's marvellous but now under-achieving 4461cc turbocharged V8 diesel.
You'd think the V8 would provide a knockout punch, but younger and more lithe opponents now surround the brawler.
The V8 puts out 151kW and 430Nm of torque at 1200rpm.
However, Nissan's top Navara has a V6 with 170kW and 550Nm at 1750rpm. Ford's new five cylinder 3.2 litre produces 147kW and 470Nm from 1500rpm.
So although the Toyota's quicker to punch, it just doesn't do it as hard.
But not to worry. Driven's nearest grit mine is closed at weekends so we put the 70 to the next best test, a drive of some of the trickier tracks at the Jeep Woodhill 4WD Park near
Helensville followed by a run to near Matakohe, Northland, to load 600kg of firewood. It did well.
Equipped with the optional front- and rear-axle differential locks _ the best $2500 option ever _ and without an electronic traction aid to its name, the Cruiser blitzed obstacle-strewn tracks with significant ease, its own physical size providing the biggest challenge on narrow paths.
Despite its torque deficit, the V8 is an off-road gem, it just works away at a bit above idle, lazily dealing with whatever punches the track throws.
Same thing on the 300km firewood round-trip. The engine barely knew it was carrying a load.
However, its highway performance comes with a couple of ''howevers''. At 100km/h the engine's doing 2400rpm in fifth gear (there is no automatic) and sounds and feels like it could do with a sixth speed.
The cabin's getting noisy at 100 and, on hills, the engine starts running out of steam rather sooner than you'd like. Oh for the 195kW/650Nm twin turbo version in the Land Cruiser 200 wagon.
Empty or loaded, ride and handling are good for a beam-axle vehicle with rear leaf springs, just like its mother always said.
Overall, you can't help but love the way the imposing white whale goes about its business, unruffled and with an engaging mechanical charm all its own.