One drive lifts the lid on Toyota's top-of-the-line Corolla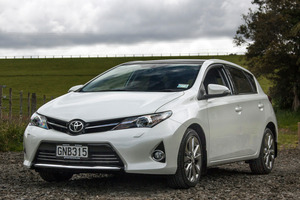 This was supposed to be a well-considered, authoritative comparison between the new low-grade Toyota Corolla hatch and the top Levin ZR model. Is it really worth $10,200 more and, if so, why?
But five minutes into a drive of the Levin ZR and I can't be bothered. Of course it's worth whatever extra it costs over the low-spec GX and it's mainly worth it for just one of its many extras.
That's the huge glass roof that spreads from over the driver's head to somewhere way down near the hatch lid. It can be hidden behind an electrically operated retracting headliner, should you find bus passengers looking down at you.
All that sky above is fantastic, even if it's raining. And with the climate control aircon that's another step up over the base GX, who needs a roof that actually opens like a cabriolet's or convertible's?
The French are good at giant clear roofs like this and the car with the Horowhenua town's name makes me feel I'm driving one of those.
Very classy. Very Mission Bay.
One thing, though: the panoramic roof costs an extra $1800 and it's only available on the $43,690 ZR. That's a bit of a bugger, because it brings the total to $12,000 over the base model. But there's more than just the roof; the Levin ZR has lovely leather sports seats and a classy stitched dashboard that makes it look like the Lexus model that Lexus does not have.
Some may think mid-40s is a bit much to pay for "just" a Corolla, and it is, but the added fittings and Levin buyers won't need to worry about hubcaps being stolen - unlike GX buyers.
fixtures elevate it into a new compact luxury category, far removed from Corolla's steel-rimmed origins.
The new line-up comprises a quartet of models, a GLX and Levin SX filling in between the low and high models. Only the GX has a manual gearbox, a six-speed, while all the others have a seven-step continuously variable (CVT) automatic and the Levins have paddle shifters on the steering column.
Who'd have thought, years ago, that the humble Corolla would one day have racing-car shifters?
Offering rich-man versions of poor-man cars is not new. Automakers do it in an effort to widen a car's appeal and snare more business.
But it's happening more frequently as marketplace demand for premium models grows; in the second decade of the 21st century small is no longer synonymous with cheap.
The Levin ZR and the lesser SX combine their luxury with some sporting features, notably the shift paddles and sports seats. However, wide rims and larger tyres, and small suspension tweaks, also make them sportier.
Still, it's surprising not to find a "sports" version with bits of its body blacked out, a big exhaust pipe and bolder changes to the suspension.
If that sounds like your kind of car, Toyota has good news: A spokesman told Driven a version is being considered for next year.
By my count, the Levin ZR has 66 features not on, or different from, the GX - excluding the panoramic roof. That works out at $154.55 per feature. And there's still more work to be done, as the Levin ZR doesn't have satnav. That will add a further $2355.
Safety features are the same across the range and all are worth having, but while I'm sold on the Levin ZR just for the roof and the improved ambience of the interior, I could live without some of the other items on its specifications list.
I'd even be happy with the steel rims of the GX, which are swapped for alloys as soon as you hit the GLX model.
But I wouldn't part with the keyless entry and the outside mirrors that fold flat when parked.
I guess that's why Toyota offers four models. A Corolla can be whatever you want it to be, limited only by wallet size.