Young racer's confidence belies his youth, finds Kevin Garside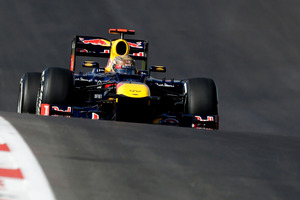 Genius is a devilishly difficult commodity to capture but out there in the sporting universe this past weekend a young performer proved his worth.
Sebastian Vettel is 25 years old. He was in 2010 the youngest to win the Formula One world championship. At the Circuit of the Americas in Austin he was invited to become only the second driver in the history of the sport to rattle off a hat-trick of titles in successive seasons. The first, Juan Manuel Fangio, achieved the standard more than 50 years ago in the infancy of the championship.
Vettel signposted his gifts with a pole-to-flag maiden win in the wet at Monza in 2008 in a Toro Rosso. Alongside the superior machinery argument, the view lingers that Vettel, though a brilliant front-runner, is not so good when dealing with adversity or traffic.
A prominent voice among the anti tendency is Jacques Villeneuve, who saw a technical failing in Vettels misjudgment behind the safety car in Abu Dhabi last week, and claims he reacts like a child in moments of distress.
Villeneuve dismissed Jenson Button as more boy-band brand than racing driver when he joined him as teammate at BAR. Button went on to floor the former world champion, ultimately driving him out of the paddock.
Michael Schumacher had to put up with the same criticisms at Ferrari, despite the testimony of his teammate Eddie Irvine that he was just too good. Vettel started the season in a troubled car, nobbled by a rule amendment designed for the express purpose of slowing it. The aerodynamic shuffle required to adjust to life without the adhesive power of exhaust gases and blown diffusers meant Vettel started the season well off the pace of the McLarens. Though he eked out a win in Bahrain, his 11th, fifth and sixth place finishes in the opening five races were more representative of his car's performance.
Alonso has enhanced his reputation this season by the brilliant husbandry of an inferior car, nicking a win here and there. A chance encounter with Vettel during pre-season testing in Jerez before his Toro Rosso debut in 2008 revealed a 20-year-old of preternatural maturity.
A prospective podcast interviewee had been syphoned off elsewhere at the last minute, leaving a big hole to fill. Vettel emerged from the Toro Rosso garage bang into my stride path. Serendipity. Of course he would be happy to speak. And speak he did, in perfect English.
It wasn't so much what he said but the way he said it. There was a degree of self-possession and calm, as if he were born in a racing suit. He did not impress upon me the uncertainty of a novice but the absolute assurance of a kid who knew what he was about and where he was heading.
The scary thing is, after 100 races that yielded 26 wins and 36 poles, he is not even halfway there.

-Independent