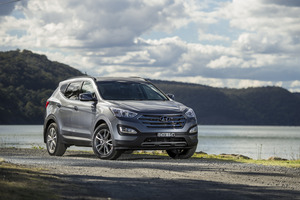 The dilemma
Murray is preparing for summer and days on the harbour. But first he needs a vehicle to tow his boat.
"I'm after a vehicle to use every day around Auckland but also to tow a 6.5m boat (dry weight 1600kg on a braked trailer). I average around 30,000km each year," says Murray. "I'm looking at the Ford Territory diesel, Hyundai Santa FE 2.2 CRD, or Toyota Highlander. What do you think?"
For your lifestyle, Murray, and annual travelling distance (twice the national average), you would have to consider diesel power seriously.
Engine torque is where diesels shine with greater "pulling power" under loads so the engine maintains lower revs and therefore consumes less fuel than a petrol engine.
Diesels can be expensive to maintain compared to petrol power and, with your annual mileage, be prepared for a couple of oil and filter changes each year at least.
The other consideration is 2WD or 4WD. If you tow the boat often over unsealed or challenging terrain or launch from slippery, steep boat ramps, then 4WD may be the better option. Driving and parking in the inner city can be a frustrating exercise with any reasonably large SUV.
Good vision, comfort and parking aids such as reverse cameras and parking sensors can make the journey around crowded inner city streets much less stressful.
The budget: $50,000
The shortlist
Toyota Highlander
Unfortunately, no diesel option is offered. With a claimed fuel consumption of 11.6 l/100km (without the boat ) your trips to the boat ramp would need to be reasonably short. Pluses are it can be bought with a reversing camera, stability control, Downhill Assist Control and Hill Start Assist Control, which are all handy driving aids.
Both 2WD and 4WD options are available also while on-going servicing would be cheaper than the diesel option. Towing the boat won't be a problem with a braked towing capacity of 2000kg.
Hyundai Santa Fe R
All bases in terms of comfort and safety are covered with this diesel model. Extra touches include reverse camera (integrated into the rear view mirror, which is better than nothing), parking sensors, leather trim and Downhill Brake Control.
Some Hyundai dealers are currently offering a 3-year/45k (whichever comes first) service plan which helps with those expensive service costs albeit for a short time in your case.
Towing recommendation is 2000kg for a braked load. Four-wheel-drive is selected automatically (when slip detected) or can be locked manually which helps reduce fuel consumption (claimed consumption is 7.4 l/100km).
Ford Territory
Like the Hyundai, the Territory TX AWD diesel is well spec'd safety and occupant comfort-wise, although a reverse camera is not standard on the TX (parking sensors only are standard). As a driver's vehicle the Territory is hard to beat and can reduce stress when towing. Braked tow ratings vary depending on the load. To tow in excess of 1600kg (to a maximum of 2700kg) a heavy duty tow pack is required so be sure to avoid extra costs and check what is fitted if buying second-hand. Claimed fuel consumption is 8.8 l/100km.
Driven recommends.The Hyundai Santa Fe Diesel is hard to beat as an overall package.