Three contenders offer driving thrills at an affordable price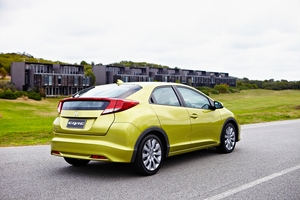 Stefan is after a thrill - a driving thrill that is - as he tries to decide what should be his new car.
His two top contenders are the Suzuki Swift Sport and a Honda Euro Civic S manual.
"Which would provide more thrill to a driving enthusiast?," he asks, "and are there any other cars that I should consider?"
Those are very good questions, Stefan. Initially my mind swung towards the all-new Civic Euro Honda but after comparing specification levels it's a much closer race than first imagined.
As an all-round driver's car the Honda would have the edge, especially on the twisty and more challenging roads, but both vehicles would no doubt provide the overall driving experience you are looking for.
You also need to add on-road-costs to the advertised Honda retail price. This can increase the final retail price by several hundred dollars. The Suzuki retail prices are currently inclusive of on-road-costs.
If you are carrying front- and back-seat passengers or other bulky loads on a regular basis and want something with a European flair, then the Civic is the better choice. If it's just you and one other passenger most of the time and you are looking for a sporty, good-looking vehicle at an affordable price, then the Swift Sport is hard to beat.
The Budget: $25-$35,00
The shortlist
Honda Euro Civic
The Euro Civic manual wins marginally on performance (104kW and 174Nm v 100kW and 160Nm), has a bigger engine (1.8l v 1.6l) and slightly better combined fuel consumption (6.1l/100km v 6.5l/100km). The Civic is longer (+410mm), wider (+75mm) and lower (-35mm) and has a lot more usable interior room, especially with the folding rear magic seat design.
Suzuki Swift Sport
Suzuki Swift SportThe Suzuki is a sporty version of the ever popular Swift range. Judging by current sales figures, however, it doesn't look as if the buying public has tired of the same-but-different shape of the new Swift just yet. The Suzuki has sports seats with red stitching and a leather-bound steering wheel.
Mazda3 GSX
Your budget puts you within a couple of hundred dollars of the Mazda3 GSX. Bigger engine (2l) than the other two with more power and torque. Combined fuel consumption is higher (8.4l/100km). The GSX is a step up from the base model GLX and is therefore a better and sportier all-round package. The GSX lacks a manual transmission but you can still "play" with the gears using the five-speed Activematic auto. The Mazda3 has been a long-time favourite in NZ but whether it has the sporty appeal you seekare looking for and is worth the extra money is for you to decide.