James Hinchcliffe is aiming for consistency, writes Eric Thompson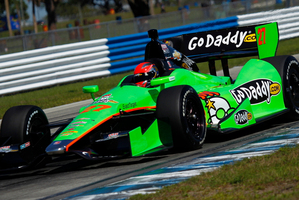 The 2012 IndyCar season has been a breakout year for Canadian James Hinchcliffe. He shone at his second visit to the Indianapolis Motor Speedway where he qualified second for the Indy 500, led five laps and finished a creditable sixth.
The IndyCar rookie of the year in 2011 has repaid the faith Andretti Autosport placed in him by signing him after Newman/Haas Racing withdrew from IndyCar competition.
Hinchcliffe was recently in Australia for the Gold Coast 600, where he didn't have the best of times, retiring in both V8 Supercars races, and stopped of in New Zealand on his was back home. While here, he took in a V8 SuperTourer race at Pukekohe.
"It was quite cool to watch. It's fun to watch any time a racecar has more power than grip," Hinchcliffe told Driven on the way back from the track.
"It's fun to watch those guys slide around, especially on a track like that which is so fast and really bumpy in places.
It was cool to see that."
Hinchcliffe didn't quite make it to the top of an IndyCar podium this year but came close with two third places - Long Beach and Milwaukee. The 25-year-old finished the season inside the top 10 in eighth, 110 points behind champion and teammate Ryan Hunter-Reay.
Not too shabby when you come to think about it really. Hinchcliffe is in only his second season, and finished in front of some big names such of Tony Kanaan, Graham Rahal, Marco Andretti and Rubens Barrichello.
"I'm quite pleased with most of our season and the car showed good pace at times on all the tracks we went to. There were a few places we weren't totally competitive and we had some bad luck at places like Detroit and engine failures in Toronto and Sonoma. The second part of the season didn't go as smoothly as the first half for a bunch of reasons."
While every driver wants to be at the very least on the podium at every race meeting, if not standing on top, Hinchcliffe's year has been good.
He finished inside the top 10 in just over half the series' races.
"Being able to compete week in and week out with Franchitti, Dixon, Hunter-Reay, Castroneves, Power and Kanaan puts me in pretty good company really," said Hinchcliffe.
Motorsport is a rollercoaster when it comes to trying to get a gig that'll last more than a race or two. It's a difficult headspace for a lot of professional drivers who don't have a three, or more, year deal not knowing what's around the corner.
Hinchcliffe has put pen to paper for another year with Andretti Autosport and is in the position of now knowing exactly what's going to happen next season.
It was the first time in Hinchcliffe's motor racing career he knew what was going to happen after the chequered flag fell on 2012.
"It's one of the most fickle sports and businesses out there and a lot of drivers spent most of the off season wondering, fretting and waiting to find out what's going to happen the next season.
"Knowing what I'm doing next year helps a hell of a lot also. Having consistency is a key thing and we've already started working on some things to make the team better for 2013. It's the first time I'll be back at the same team for two seasons in a row," said Hinchcliffe.
Being back with people he knows will only bode well for the Canadian and the team.
"He knows them and they know him. It's a great fillip for a young driver to know he's wanted and appreciated - especially when he stepped into a team that used to run Danica Patrick and wear the GoDaddy.com sponsorship she ran on her car."
One would have to say though, so far Hinchcliffe has proved he's been a more than an adequate replacement and is only going to get better.
"I was very pleased to get the drive obviously. But what Danica and GoDaddy did in IndyCar was huge and generated a lot of press. Sure, there was a little bit of pressure to make sure they didn't fall out of the public eye and I was just very lucky to get to work with them all," said Hinchcliffe.
Driven doesn't know if it was planned or not, but Hinchcliffe racing number is 27, the same used by two other great Canadian drivers, Gilles Villeneuve and Jacques Villeneuve.
"It sort of happened by fluke. The team just decided that Marco's number is 26, Ryan is 28 so let's keep it simple and put 27 on my car not realising the significance the number meant to Canadian open wheel racing fans," said Hinchcliffe.
Hinchcliffe doesn't believe in twiddling his thumbs in the off-season. As mentioned earlier, he has been racing in Australia, will race at Daytona and might even try his hand at karting. Most elite drivers racing at the top of their respective games don't bother trying their hands at other categories, but if was good enough for the AJ Foyts and Mario Andrettis of the world, it's not a big leap to say it'll not do Hinchcliffe any harm either.
For next season, Hinchcliffe is primarily looking for an improvement on his 2012 championship and is not looking to put all his eggs in the "I must win the title championship" basket just yet. At 25 he's got a long career ahead of him, and is comfortable in the knowledge four-time champion Franchitti didn't win his first title until he was in his mid-30s.
"If you keep showing improvement, eventually you're going to be the guy on top," said Hinchcliffe.