... but these ones aren't toys.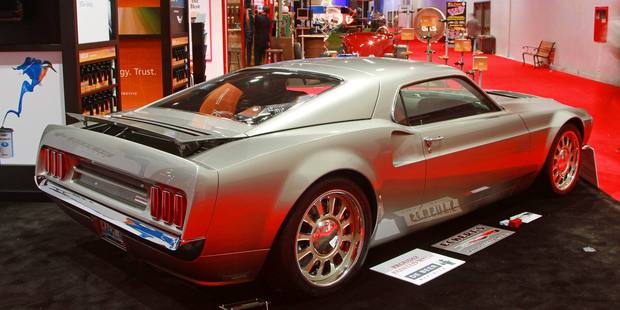 Modifying cars is a dark art. Get it right and you've created something beautiful and unique; get it wrong and people will point and laugh as you drive down the road.
The rapidly beating heart of the modified car world is SEMA - the Specialty Equipment Market Association - and its show takes place in Las Vegas every year.
It's become something of a double-act in recent years, with car companies showing off concept versions of their machines, even launching cars, alongside around 2000 new products vying for honours in dozens of categories. These SEMA badges of honour can make a new automotive product into a winner.
And a Kiwi bloke from Auckland parts supplier Dodson Automotive was in Vegas this year showing off some clever clutch work, in association with driveline specialist Exedy.
There was some solid machinery on display from the manufacturers, including Hyundai unveiling seven concept vehicles based on the quirky Veloster, sweet Genesis Coupe and the i30, recently launched in New Zealand.
Stablemate Kia came out to play with a line-up of Justice League comic-inspired machines - the Flash Forte Koup, Aquaman Rio 5-door, Cyborg Forte 5-door, Green Lantern Soul and the previously unveiled Batman Optima.
RIDES and Super Street, each features artwork by legendary comic book artist and DC Entertainment co-publisher Jim Lee.
Ford revealed a signature version of its Focus ST hot hatch for Top Gear USA host and rallycross personality Tanner Foust.
There was even a Lexus hybrid - the CT200h - dipped in the most over-the-top display of bling seen since that doofus in the Middle East goldplated his Lambo.
This hybrid was coated in a staggering 35,000 Swarovski crystals, inside and out, with rhinestones added for good measure, and fake fox fur accents and seat coverings. There must be a reason for it, but we can't think of any.
New takes on older machinery really capture the imagination at SEMA - cars that have been tweaked, rebuilt, restored and in some cases completely redesigned. And some of this year's offerings were truly staggering.
Eckert's Rod and Custom elected to mash up a 1969 Mach 1 Mustang with a Ford GT. Easy? Nope. It needed a totally fabricated chassis to fit the mid-mounted supercharged V8, the body was widened by a whopping 20cm - the makers said they wanted something that was a bit different from the other 300,000 Mustangs made that year.
The big winner of Mothers' show and shine award at SEMA - that sees some of the most respected and talented builders in the world take each other on for the glory of the top award - was a stunning 1971 Camaro named the ProfeSSor.
The silver Camaro was named for the ultra-nasty 500ci Chevrolet LSX mill built by drag legend Warren Johnson, aka The ProfeSSor.
So clean that you'd happily eat off the engine, the drivetrain sits on an Art Morrison chassis with a C5 Vette front suspension and a trusty Ford 9-inch at the back. It's been widened, the windscreen reangled backwards, wedge cut, widened panels and has a custom rear - to name just some of the amazing modifications made by Roger Burman from Lakeside Rods and Rides' over a painstaking 16-month build.
If these hugely complicated - not to mention fiscally taxing - builds aren't really your thing, the nice folk at General Motors did launch something for those of us who are slightly slow to grow up.
The 2013 Chevrolet Camaro Hot Wheels Edition will go on sale next year - based on the Holden Commodore platform, in coupe and convertible form.
It takes some of the styling cues from the serious ZL1, adding a mean ground effects package, black 21-inch rims, the obligatory flame graphic up the side and Hot Wheels graphics.
"It's the first time a full-size, production Hot Wheels car has been offered for sale by any manufacturer," said a GM statement. "Blister packaging and orange race track not included."