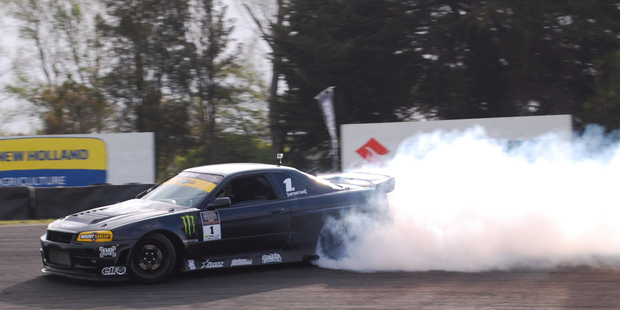 Reigning D1NZ national drifting champion Curt Whittaker battled his way to the top of the podium once again in the season opener at Manfeild Raceway last weekend.
He has turned up the wick on the Toyota 2JZ engine that powers the R34 Nissan Skyline, and it is safe to say that Whittaker certainly kept last year's promise to return with an even more aggressive battle style
This was most evident in the Manfield finale, where he went head-to-head with 06 "drift king" Dan Woolhouse and his LS1-powered Holden Commodore.
The closing battle of the event - in which V8 Supercars star Shane van Gisbergen had a crack at the extreme sideways sport - started with Woolhouse taking lead position for the first run.
Whittaker slowly stalked him around the inside of the first corner tucking his Skyline as close to the Commodore's rear guard as possible. The crowd cheered as the Castrol Edge Commodore violently swung around the first apex closely followed by the black Skyline.
Then Whittaker, in his first major mistake of the round, drove both back wheels off the tarmac resulting in a score of 0/10 from the officials.
Entering the final run Woolhouse needed only to complete his chase without running off the track, but in true D1NZ style he set out to chase his competitor down.
After blistering pace around the first sweeper, Woolhouse fell victim to the same part of the track as Whittaker in the previous run. Which resulted in another 0/10 score from the judges, this time in favour of Whittaker.
A re-run was called, and after another close battle between the two drivers, disaster struck Woolhouse's Commodore in the form of power steering issues. After getting the car to the pit lane, the Castrol Edge pit crew raced to fix the issue for the final run.
The rules give teams have five minutes after their competitor lines up on the grid to fix any issues between battles. Whittaker showed true sportsmanship by changing his tyres to extend the amount of time the pit crew had allowed to get the car back on the track. But it could not be fixed, and to a cheering crowd, the commentators announced Whittaker as the Cody's D1NZ Championship Round 1 winner.
It was hard to miss the fact the first round of the 2012/13 season was reminiscent of last year's championship in terms of placings, the only difference being Whittaker's fellow finalist Dan Woolhouse and this round's top qualifier Mike Whiddett (driver of the Red Bull/Speedhunters RX7) trading sides on the podium after a nail biting semifinal between the two veterans.
With the Whangarei street course next on the event calendar, this year's championship is off to an exciting start, and was a fitting way for D1NZ to celebrate 10 years of drifting in New Zealand.