Tony Quinn has plans for a monster track and national motor museum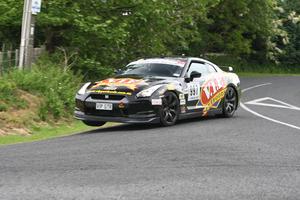 After winning his fifth Targa New Zealand tarmac motor rally - and fourth in a row - Tony Quinn and co-driver Naomi Tillett are retiring the black VIP Petfoods-liveried Nissan GT-R35 which has been so successful.
While not quite being put out to pasture permanently, the car will live inside a new museum Quinn is building alongside his racetrack in Cromwell.
The Highlands Park complex, which is under construction, will incorporate a 4.5km circuit, go-kart track and an existing restaurant with wine tasting room and what will become New Zealand's National Motor Museum.
The consent approved for the development includes provision for vehicle testing, driver schools and training, tourism activities, corporate activities and promotions, the film industry, and motorsport. It will also run an automotive-related commercial park alongside.
Quinn may be retiring his car after his latest Targa win but that doesn't mean fans won't get to see it again at some stage.
"It was pretty special to win Targa again for a number of reasons," says Quinn. "I was taught by the great master Jim Richards, who incidentally won the Targa Tasmania seven times and I'm feeling I should carry on and go for the seven wins.
"Also, the car has been great but it's at the end of its competitive life because it's won a fair few things other than in New Zealand. It's also been successful in Australia and it's a good car," he says.
"It hasn't quite been retired from service as this weekend we're going to try and do the Coronet Hill Climb. We'll be changing the gearbox and a few bits and pieces and the head gasket has gone.
"But we're not worried about that, as I've been told it'll be able to go up and down the hill a few times. In years to come we'll still pull it out occasionally and give it a blast."
There are many collections of iconic and historic racecars scattered around New Zealand - mostly in private hands and no recognised national motor museum. Quinn is keen to try and gather as many as possible and give them a permanent home so folks from all over the country, and overseas, have a single place they can go and view them.
"The concept of the track idea was born about eight years ago, but the museum is probably of more interest to me. The track will be special and all of that, but New Zealand has done so well internationally in the motorsport arena that there are a lot of cars lying around in New Zealand that mean something.
"I want it to be a relevant museum and I don't want to have cars just for the sake of having cars. I want it to be something special. You know Black Beauty, the A1GP car? Well that's just sitting in a bloody warehouse in Auckland - that needs to be shown off with the history of it and who drove it and where they are now," says Quinn.
The museum has plans to be a live experience with televisions showing races and live footage of people going around the track, interactive points and will overlook the circuit. Driven understands the museum is going to be a raucous place rather than a more staid and quiet traditional museum.
The track itself is quite special and will be one of the longest in the country.
"The track design is a mix of a few different inputs and there are a number of corners incorporated from other tracks we've raced on like Sepang in Malaysia, the Nurburgring in Germany and other places like that," says Quinn.
"There are certain corners and pieces of other tracks that have appeal and we've also put in an underpass and a bridge, there's a lake in the middle of one of the sections, a constant radius corner, esses, and a 17-degree carousel."
To be perfectly precise, there will be three separate tracks that can be joined together to make the one monster circuit 4.5km long. Now that's a man's circuit and as Quinn succinctly puts it, "You'll need a big pair to drive it".
The track is wide and has plenty of passing opportunities on it. Quinn is pretty sure to have the track about 90 per cent right, but there'll also be a bit of room for improvement and there's still time for some tweaks to be made in necessary to try and get it to be the ideal racetrack.
"Initially we never considered being part of the national championship circuit roster but to be honest there are pressures from the categories themselves and the community to make it part of the existing roster," says Quinn.
"It's something we'll have to think about because I never wanted to take anything away from any of the circuits that are in the South Island now. That was never the intention at all.
"However, it is such a good asset that we feel we have to share it with the local motorsport community. But we haven't 100 per cent knuckled down exactly what the business plan is going to be and we are always available and open to any discussion with anyone who wants to have one," he says.
There's a fair amount of water to go under the metaphorical bridge yet, but having world-class circuits in both islands is no bad thing.
The setting of Highlands Park is a bonus and although the drivers may not have too much time to take notice, coming out of the forest and seeing snowcapped mountains in the distance is certainly something different.