Pint-sized lass fast becoming a nightmare for the lads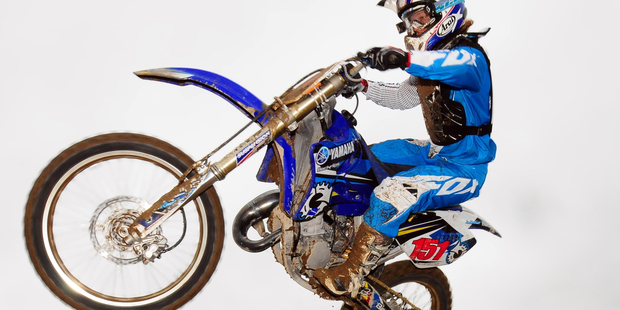 Otago's Courtney Duncan is still beating up the boys, even though she reckons she's "not up to speed yet".
Even after 10 months on the sideline with injury and then stepping up to a bigger bike, against bigger and older males than she's ever clashed with before, 16-year-old Duncan remains a motocross nightmare for the men-folk.
The former national 85cc champion only recently collected her new Yamaha YZ125 and, with only two months to build herself up again, Duncan travelled north to take on the nation's junior elite at the big annual Labour Weekend Motocross Extravaganza at Taupo.
She demolished both classes she entered on the Saturday and nearly blew the lid off the competition in the senior ranks the following day as well.
Duncan recorded three wins from three starts in the 15-16 years' 125cc class and then scored a hat-trick of wins also in the separate women's grade.
She returned to the sandy Digger McEwen circuit the following day and came within one point of winning the senior 125cc class, just shaded for the glory there by local rider Hadleigh Knight (KTM).
She finished third and first in her two senior 125cc class races and then crossed the finish line 17th in the 28-rider all-capacities feature race at the end of the day, a one-off race featuring riders on 450cc and 250cc bikes as well. In comparison, Knight finished 2-2-15, although that was enough from him take the overall senior 125cc class win, albeit by just one point.
"I needed to have both knees rebuilt following my crash a year ago," said Duncan afterwards.
"I only had medical clearance to return to the race track at the end of August. I'm super pumped by this result though. The Taupo track is the best in the North Island and I love racing here. It's good to come up here and beat the Bay of Plenty boys on their home track and they are all very good riders.
"To be honest, I'm not up to speed yet. I need a lot more time on the bike. It's taken me a bit of getting used to the 125 after so many years racing the 85cc Yamaha.
"It might take a year before I'm really firing. I love the Yamaha and I'm getting to love the bigger bike. I'm waiting for a new YZ250F four-stroke to arrive next too. I'm sure I'll love that as well."