Ducati's vocal machines are music to Jacqui Madelin's ears.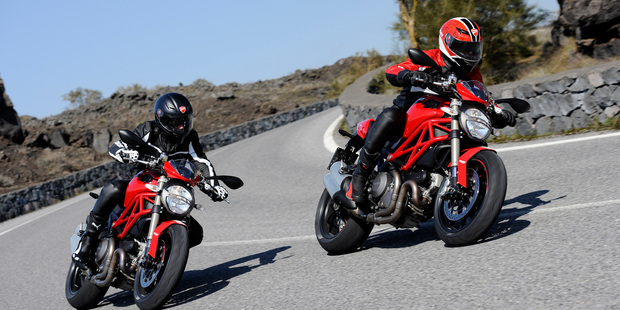 The Ducati's coughing and grunting like an angry panther and blistering my legs in stop-start traffic, but a blip of the throttle and cars part like startled pigeons as this 1100 Monster snatches the bit and leaps for freedom, hurling torque to the fat rear tyre, egged on by its own soundtrack bouncing from walls and buildings.
We head for the hills, where wide bars and a riding geometry designed for nimble handling come into their own.
This bike's M900 ancestors launched in the early 1990s and helped create a new breed of bike, with minimal plastic and maximum muscle in a format that perched the rider over the controls like a jockey, sitting more upright than a traditional sports format to impart commute-ability and to access longer-distance touring without the crippling discomfort race-replicas mandate.
This Monster's mighty twin-valve V-twin motor produces 74kW at 7500rpm but its strength is its 103Nm torque hit at 6000rpm combined with a relatively light, 188kg weight, and we'd expected violent wrist-snapping delivery. It's certainly aggressive, but the air-cooled format ensures it's more tractable than expected - torque pouring down as you wind it on in a smooth stream, the twin pipes roaring their challenge then snapping and popping on the over-run in a heady symphony so potent you'll throttle off just to hear it.
My brief Sydney-region ride over rough country roads came with the adjustable Marzocchi front forks and Sachs rear shock set at their mid-range, to suit a rider some 30kg heftier than I, and the hard ride flicked my butt from the seat and rattled my spine but held the riding line even under provocation, those widish bars letting you tip it way in, correcting mid-bend, then rocketing out as the Pirelli Diablo Rosso rubber hooks up.
Heady stuff, and inaccessible to learner riders - until now. The 1100's 659 Monster sibling complies with the Learner Approved Motorcycle Scheme power-to-weight rules and is sold only here and in Australia. Effectively, it's a 696 with shorter piston strokes and the cam timing and engine management tweaked accordingly, the aim being to shave it to just under the maximum power allowed under the rules, the tally dropping from the 659's 60kW to 38kW.
The 659 is designed to perform just like the donor bike until higher revs, when it drops off. Otherwise, the looks are identical, as is the soundtrack and the $17,490 price.
Hop aboard and it immediately feels smaller than its 1100 stablemate ($22,490), though the riding position is immediately familiar, and flinging it through a few corners reveals this is more than just a nod to learners after the Ducati look. Lighter, nimbler and with a more basic suspension setup that proved more supple, it's designed to hustle through bend after bend, nimble handling letting you make the most of the more modest power figures and snap at the heels of bigger bikes ridden by less able or confident riders. Sure, it runs out of breath when the road opens out - but the 659 is aimed at getting a licence, not losing it. Meantime, it'll flatter a novice who will appreciate its nimble nature as skill levels rise, and given the right road, will equally please a more experienced rider, while blitzing the commute without blistering its rider's legs as the 1100 does in city gridlock.