Paul Charman gives the thumbs up to the distinctly eccentric vehicles plying the Stratford-Taumarunui tourist railway.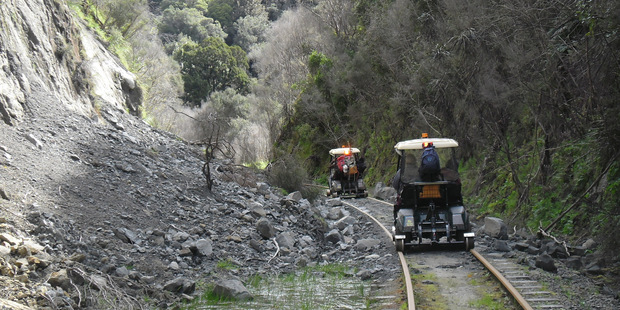 Backyard tinkerers have long fitted railway wheels to an assortment of maverick machines designed to run either on tarmac or on rail.
Back in the 1930s, the general manager of New Zealand Railways had his own "inspection railcar", a car adapted to drive along the rails.
And, in a famous 1987 episode of MacGyver, our hero escapes from trigger-happy Latin American guerrillas by stripping down a jeep to run along jungle railway tracks.
No problem for MacGyver; all he needed was a Swiss army knife, some duct tape and a spare hour.
But Waikato entrepreneur Ian Balme found the job slightly more taxing when he decided to run tourists along the old Stratford to Okahukura Railway Line.
Balme's company, Forgotten World Adventures, began operations this month, using half a dozen "rail carts", actually golf carts, which can be converted into railway vehicles within about a minute.
The machines run daily on a rail line built from 1901 until 1933, then mothballed in 2009.
Several versions of the ride are attracting adventure tourists from far and wide.
The company's primo ride is a leisurely two-day junket over the full 142km of line, broken in the middle with an overnight stay at the Whangamomona Hotel.
Having taken this "Ultimate Tour" at Labour Weekend, I can attest that the converted golf carts run on the historic track with ease, actually crossing 24 tunnels (the longest more than 1km), numerous bridges, viaducts and some very steep saddles.
They're quite comfortable, if fairly chilly at times, having that gentle "clackety-clack" side-to-side sway, reminiscent of more conventional rail transport.
There's excellent visibility, the travel is quiet enough for a good conversation and the clear plastic "sides" can be put up to give limited rain protection.
In rail mode the steering wheel is (obviously) rendered inoperable. However, on the rails, the "driver" retains control over acceleration, slowing and stopping.
The rail carts do about 20km/h, which is perfect for taking in the beguiling scenery or back blocks farms and rugged bushland.
On my trip, the most exciting incident was a near-collision with a wild goat - one of thousands in the East Taranaki hills - which jumped across the tracks of an old railway river bridge at the very second we drove onto it.
Ease of conversion from road to rail use seems to be the key to the success of these vehicles, a transformation reminding me - in principle, anyway - of how those Sealegs amphibious boats operate.
I can tell you that the back tyres sit on the track, providing the traction required in rail mode, but I cannot reveal a lot more than that.
Balme put much money and resources into the venture which has already started to boost local tourism. He is keen to guard his technology as long as possible, having fielded in the past week inquiries from folk keen to run similar ventures along disused tracks in Northland and Australia.