The hunt is on to find city's best parallel parker.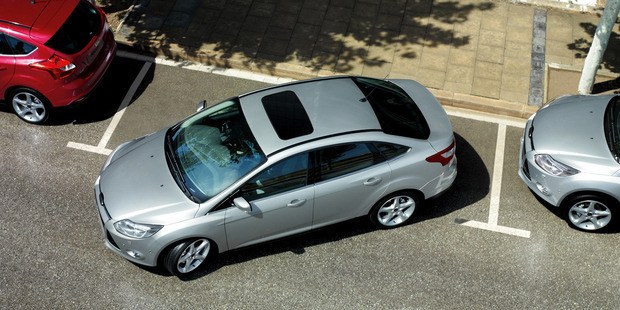 If you think you could parallel park with your eyes closed (though we don't recommend it) and have never "kerbed" your tyres then you can test your skills in Auckland tomorrow.
Today drivers can compete against each other and even take on the latest hands-free automobile parking technology to find out who is the country's best parallel parker.
The first 24 parking star wannabes who make it to Queens Wharf will be judged on speed and accuracy.
Contestants will have to show how fast they can reverse into a car space and how precise they can do that without hitting the kerb.
Competitors will also pit their skills against the latest in motion-sensor parking technology, as found in the Ford Focus.
Participants will take the wheel of the Focus and will compete against a professional driver who will be using the Focus' active parking assist - technology that allows the car to parallel park.
Both drivers must complete a reverse manoeuvre from starting positions to the final parking position as quickly and precisely as they can.
Accuracy will be closely monitored, and those who execute a legal park will then be ranked according to time. Eligible parks will also be measured on the distance from the kerb and how far both their inner wheels are to the distance between front and rear bumpers.
Two sets of qualification rounds will be held and then the top eight will be pitted against the Ford Hands-Free driver.
The two top-placed drivers will go head to head in a grand final to decide who is the fairest parallel parker of them all.
"Parallel parking is still one of the most stressful parts of driving for many New Zealanders," says Chris Masterson, Ford NZ's marketing manager. "It's why Ford's Active Park Assist technology is growing more and more popular, simply because it takes the guesswork out of reverse parking, completely removing the fear factor.
"We hope this competition will bring out those legendary Kiwi drivers who are superstars in parallel parking while also showcasing some truly remarkable technology, all while having a bit of fun."
TV3 sports reporter Hamish McKay will host the competition, and Driven's Liz Dobson will be a judge.
The prize for the Car Parker of the Year is a year's free valet parking at Auckland's Britomart Car Park, valued at $6000, and there are great giveaways for finalists.
For more information go to parkies.co.nz