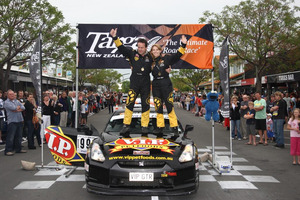 Competitors in the 2012 Targa New Zealand tarmac motor rally are in for a bit of a fright next week. Organisers have received a late entry from four-time New Zealand rally champions Richard and Sara Mason.
There are several good Targa experts ready to roll but the Masons, in their Subaru Impreza, will be hard to beat despite not contesting the event since 2008. They won at their first attempt and are a good look to make it two from two.
Last time out in the Targa, Richard Mason held off challenges from some useful drivers including former rally exponent Joe McAndrew, Gavin Riches, Emma Gilmour and perennial Targa front-runner Tony Quinn.
"Targa is a fantastic event," said Mason. "Each year since 2008 Sara and I have tried to put together a package to do it again. The problem we've had is that it's always been difficult to find a budget at the end of the rally season. This year we have, so we're coming.
"It's a different challenge, but one - if you like - with definite similarities so the way I drive the car on tarmac is not all that different to how I drive it on gravel.
"The car will be a little bit straighter, and not sliding about as much but the front wheels, if you like, will still not be tracking quite the same as the rear ones."
Quinn and co-driver Naomi Tillett are still the favourites to take the win - just - from the Masons.
Quinn won for the first time back in 2003 in a Porsche 996 Turbo and has been there, or thereabout, every year since. More recently the pair have been campaigning a Nissan GT-R35 which, when everything goes to plan, is the vehicle to best most challengers.
"My sole goal this year is to get one more victory under the belt because after this year's event, I'm going to retire the car and put it in my new museum," said Quinn, a four-time winner of the event.
With three wins in three years, Quinn and Tillett are pretty much on the boil but as we are talking about motorsport, another win this week is not a given by any means. Other than the Mason pairing, Quinn will have to watch his mirrors for the flying Glenn Inkster and Spencer Winn.
They have finished second twice to Quinn in the five-day Targa event and this year the pair have won both two-day Targa Bambina and Targa Rotorua events outright. Inkster has also added circuit racing to his repertoire and believes the skills he's picked up there will help him go even quicker in Targa this year.
"You go into so much fine detail to get speed out of a circuit car and I've found that definitely translates to the Targa car," said Inkster.
"I'm also a lot better under brakes now because on a circuit you have to pay so much attention to braking, something which is not quite so critical on gravel.
"When we first did Targa in 2010 we finished second but we weren't even close to Tony, he blew us away by minutes. Last year though we basically went head-to-head the whole week but he was more consistent. So this year I definitely feel we can be challenging for the lead from the start."
Quinn's six-cylinder Nissan punches out more power than Inkster's four-cylinder Mitsubishi Evo 6 but despite what the Americans think, horsepower isn't everything.
Over five days of racing the winner will be the one who holds it together and makes the most of the various road conditions and profiles.
Targa NZ has been running for 18 years, and this time more than 100 cars will go up against each other over 1348km of touring stages and 878km of competition sections from October 23 to 27.
The event starts in Auckland, finishes in Havelock North, and sees the re-introduction of the Inglewood Jumps and Whangamomona stages and two new Gentle Annie stages from Rangitikei to Hawkes Bay.