Malibu mobile technology adds swagger to latest package.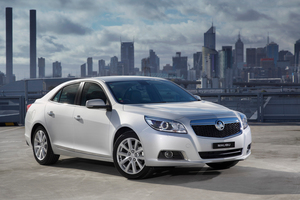 Holden has announced some blingy bits for its upcoming Malibu sedan, due for release next year.
Holden boss Mike Devereux announced the Malibu at the Sydney Motor Show this week, alongside other new models, including a fresh Barina CDX, the weighty Colorado 7 4x4 and a sportwagon variant of the popular Cruze.
Keeping the Malibu out of the way of potential buyers of the very well-specced Cruze was always going to be important, announcing a pair of fairly grunty four-cylinder engines and a solid complement of tech goodies will likely do the trick.
When the mid-sized sedan appears in 2013, there will be a 2.4-litre DOHC petrol engine or a 2-litre common rail diesel turbo on offer - both with six-speed autos with manual shifting.
Maliubu will get rear-park assist, stability control, keyless entry, a colour touchscreen and a premium audio system. It will also have MyLink, a smartphone integration system that has been available on US General Motors products for some time.
It lets the car connect to compatible devices by Bluetooth, plug-in or USB, and interfaces through the colour touchscreen and allows drivers access to streaming digital content through several downloadable applications.
Devereux is bullish about the potential of new global platform model and its place in Holden's fresh product range.
"It's a genuine premium sedan with strong visual appeal, mid-size interior packaging, Holden-tuned ride and handling and a surprising list of standard features, he said. "And the addition of Holden MyLink ensures it will offer customers a truly compelling package.
"Holden MyLink is very smart technology and Malibu will be among the first cars in our portfolio to get it.
"Holden MyLink elevates wireless connectivity to a completely new level by enabling customers to control certain smartphone apps through Malibu's touchscreen.
"And with two refined four-cylinder engines to choose from, Malibu's aspirational balance of efficiency, technology, style and performance will be very appealing."
He said that Holden engineers had "considerable input" in the development programme, and that local suspension tuning had been carried out for the Southern Hemisphere markets, as well as a specific transmission tune to suit our environments as opposed to the wide, straight roads of America.
Holden will release full details of the car's spec and pricing in the early part of next year. The next big product following these new vehicles will be the long-awaited VF Commodore.