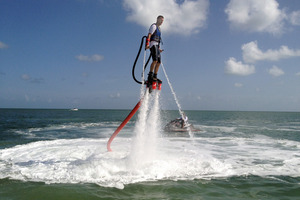 FlyBoard fulfils Iron Man fantasies
It's a bird, it's a plane, it's a ... flamin' great jet of water with a bloke on one end. Take a jet pack like the one used by 007, but substitute rocket fuel for pressurised water and that's roughly the idea behind the FlyBoard. It uses a snowboard-like base, two hand-held nozzles and can be fitted to any jetski. The device was developed in the US by jetski racer Franky Zapata and introduced at the world championship in China. Zapata posted a video on YouTube which was visited more than 2.5 million times in 15 days.
0-100: 50 years and 3.3 seconds
After lying dormant for almost half a century, the Italian carmaker Automobili Turismo e Sport, or ATS, has woken up and presented the world with a stunning new sports car. Not that it was much of a manufacturer to start with; it only ever built a dozen cars.
ATS's new calling card is the 2500GT, named after its original car made from 1962-64. It mimics the styling of its predecessor and, inside, has a "1960s look", which might mean instruments all over the place and evil toggle switches. The original ATS 2500GT was powered by a 2.5-litre V8 but the new version has a rear-mounted and highly modified Subaru 2.5-litre turbocharged flat-four that will let the car make the 0-100km/h run in 3.3 seconds.
ATS is also planning a lightweight track car powered by a motorcycle engine, called the Sport 1000.
Gremlin a scary idea
What was American Motors thinking when it named its 1970s compact the Gremlin? Did they think people wanted to own a car named after annoying small problems that are next-to-impossible to fix? No wonder the company went bung.
Fake airbags prompt safety warning
Seems that even airbags aren't safe from counterfeiters. The National Highway Transportation Safety Administration in the US is warning vehicle owners of fakes. During testing, some counterfeit components either didn't deploy during an accident or launched hot shrapnel into the dummy driver's face and hands.
The safety agency warns that fake parts may look identical to original equipment, right down to small details in the labelling. They're so good that legitimate repair shops may have inadvertently used the parts.
So far, the fakes don't seem to have been an issue locally.
Luxury shop offers world's dearest Big Mac
Venerable US luxury goods retailer Neiman Marcus produces a well-known Christmas Book full of gorgeous but not inexpensive goodies. Among this year's baubles, a dozen Neiman Marcus Edition McLaren MP4-12C Spiders.
Presumably this will please those customers who missed out on last year's Ferrari FF.
Each Volcano Red Spider comes with its own stainless steel, special-edition numbered badge and a matching McLaren luggage set.
At $442,000, the Neiman Marcus edition is $110,000 more than the normal price, but the package includes two business-class tickets to London's Heathrow airport, two nights at the Coworth Park Hotel (where the cheap rooms are pushing $500 a night), a tour of the McLaren Technology Centre and a private dinner with McLaren chairman Ron Dennis.
However, according to Good Oil's quick tally, that's still an awfully expensive luggage set.
'I don't know, it just felt wooden'
A Lada owner in St Petersburg, Russia, whom Good Oil assumes had lots of time on his hands, decided to add some class to his car by fitting a wooden dash. No, not wood trim on the dash - a real wooden dash, and a wooden steering wheel, too; complete with a Lada logo carved into its hub. Everything up to the windscreen, including the defroster vents, is made of wood. So that's an A for Effort, Boris, but Good Oil reckons you're barking up the wrong tree.
We are the world
*South Korea is the world's largest consumer of male cosmetics. Huh? According to a Bloomberg Business Week dispatch, South Korean males became fascinated with the country's 2002 World Cup soccer team's "flower men", who had smooth, flawless skin, and the craze took off from there. Make-up routines include drawing "thicker, bolder" eyebrows and, of course, expert application of lipstick.
*The inspector-general of the US Department of Veterans Affairs has warned the office in Winston-Salem was in danger of collapsing because too many claims files were stacked on the sixth floor. So the agency relocated all the 37,000 folders to offices on the fifth, seventh and eighth floors. Job done.
*Tokyo police have arrested Miyabi Kuroki, 43, and charged him with forging a medical licence in 2009 and subsequently treating patients at a Tokyo hospital, providing, among other things, examinations and electrocardiogram counselling. Hospital officials estimate he "treated" 2300 patients before being caught.
*Artist Taras Polataiko's live re-creation of Sleeping Beauty at Ukraine's National Art Museum in Kiev required five women to fall asleep daily and, by signed contract, agree to marry the first man who awakened them with a single kiss (to witness "the birth of love", according to the artist). Only one awoke during the exhibit, but since that payoff kiss was applied by a female gallery-goer, the contract could not be fulfilled because Ukraine forbids same-sex marriage. That, and the kisser wasn't a man.