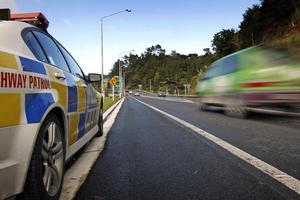 Drivers of heavy and towing vehicles will need to closely monitor their speed on the open road from this week, when police begin using better speed camera technology.
Police have updated speed cameras throughout New Zealand to enable the differentiation between general traffic and heavy or towing vehicles.
The open road speed limit for motor vehicles weighing more than 3500kg is 90km/h and for school buses 80km/h.
Vehicles towing trailers must also adhere to a 90km/h speed limit on the open road, while the limit for general light traffic is 100km/h.
Changes mean heavy or towing vehicles previously not detected by speed cameras unless travelling at more than 110km/h will be identified as speeding if doing more than 95km/h.
Cameras will continue to detect general traffic travelling more than 110km/h.
The Bus and Coach Association of New Zealand notified its members of the change, which takes effect at 4pm on Friday.
New Zealand Police manager of crash investigation and calibration services Inspector Mark Stables, of Wellington, said the change was about fairness.
"Car motorists have that 10km/h tolerance but we were giving a larger tolerance to heavy and towing vehicles," he said.
The new technology did not change car or motorcycle enforcement, he said.