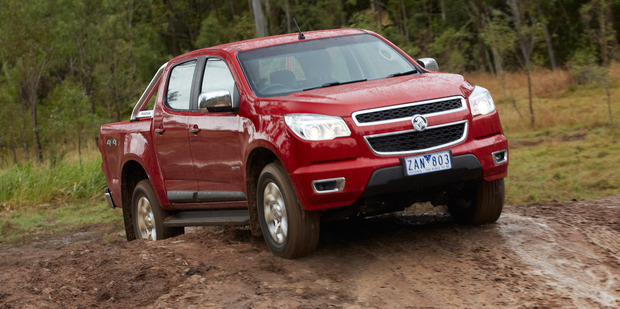 Holden and Isuzu are facing criticism after some variants of their Colorado and D-Max utes were awarded only four stars by the Australian New Car Assessment Programme (Ancap).
The failure to make the five-star grade has been blamed on the lack of dual pretensioners on the front seatbelts of the Colorado single cab and space cab workhorse models and Isuzu's flagship D-Max crew cab.
This meant these models equipped with a single pretensioner on each front seat are deemed to have missed Ancap's minimum standard of adult occupant protection in the frontal offset impact test, with driver chest protection being rated as "marginal".
By contrast, Holden's flagship four-door Colorado crew cab, which is equipped with dual pretensioners for front-seat occupants, was awarded five stars and an "acceptable" driver chest deflection score when it was launched in July.
In Australia, the lack of five stars could affect sales as an increasing number of major fleets - led by mining giant BHP Billiton - exclude four-star models under their five-star safety buying policies.
All Mazda BT-50 variants and Volkswagen Amaroks in Australia are rated five-star, as are all Ford Ranger models except the base 4x2 single-cab cab-chassis, which does not have side-curtain airbags.
The Isuzu ute crash test results were based on European Ncap crash tests, while the Colorado single/space cab rating was an assessment based on the crew-cab crash testing done at Sydney's Crashlab for Ancap.
Euro Ncap deemed the Amarok a four-star vehicle, but Ancap rated it five stars.
The Isuzu ute had hoped to get the same treatment on the strength of its overall higher score, but that didn't happen, says Australia industry website, Go Auto.
Toyota New Zealand has confirmed it will upgrade its top-selling Hilux ute to gain a five-star safety Ancap rating next year.
The present model has a four-star rating so Toyota NZ's general manager of new vehicles, Steve Pragnell, said the company was pushing for the top place.
"We have various engineering requests in with Toyota (Japan) for the major facelift next year that we will adopt enough added specifications to get to five-star Ancap rating," he said.
The key factor is a centre three-point Emergency Locking Retractor (ELR) seatbelt for the double-cab Hilux.
"We should see the new Hilux in mid-2013," said Pragnell.