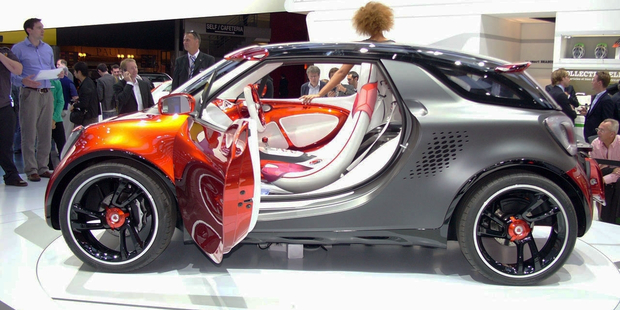 Smart reckons that its new electric-powered Forstars Concept is a Sports Utility Coupe. Say what? How can a vehicle with room for two and maybe a set of golf clubs be any sort of "utility"?
And would you really want to go four-wheelin' across a deep stream with all that electricity aboard?
It has a completely clear roof to view the stars through, which is how it got its name, and an integrated projector on its bonnet for impromptu drive-in movie nights. Good Oil is not joking.
Power is from a 60kW electric motor, able to speed its occupants for a spot of stargazing at up to 128km/h.
If only it could bend on tight corners
Chrysler's Ram division is clearly thinking about those potential customers who feel the current range of giant pickups are still a tad small.
Last year, they made the Ram Long-Hauler concept truck, and now they're talking of actually building it. Apparently, dealers are all but gagging to get the four-door MegaCab model with 2.4m-long wellside and a 6.7-litre Cummins diesel.
Its kerb weight tops 4200kg. Oh, and did we mention the fuel tank takes 640 litres? So that'll be the best part of a thousand bucks for a fill-up should it go into production and should someone bring one here.
But here's the fun bit: Ram wanted to show the Long-Hauler Concept on stage at its recent national dealer meeting in Las Vegas, but it was too big to fit. Wonder how it would fare on a tight rural backroad?
A real crash test dummy
Then there was the guy with a modified BMW M6 in Vietnam who got the urge to do some drifting in downtown Ho Chi Minh City. He floored his expensive German at a roundabout, lost control and took out a scooter and taxi.
A bystander got out of the way just in time.
The driver tried feverishly to remove the plates from his busted Beamer in an effort to avoid the law, but now is facing having plenty of time to reconsider his driving technique.
It's a wrap on ad review
The Australian Government has canned its review into the self-regulation of car advertising, reports Go Auto, despite several new vehicle ads having fallen foul of the advertising watchdog.
A spokesman said the review was shelved "following consultation with the relevant automotive and advertising industry bodies".
It is understood the federal government still supports a review of the code, and that the car industry is looking to establish its own review.
Auto assets for hound around town
Here's a barking good idea. A new book called Dogs on Wheels offers advice on how to get the most out of travelling with a four-legged friend.
It's said to offer insights into a dog's world, and guidance on choosing the right vehicle. Good Oil reckons the right vehicle would be one with carpet that doesn't attract, and cling to, fur like a powerful magnet to iron filings.
It was written by father-and-son Canadians Norm and Ron Mort who have a long history of taking dogs' places in cars.
Seems familiar
Toyota Australia has launched a certified used-vehicle programme offering factory-backed protection for any used Toyota less than four years old and with fewer than 100,000km on the clock. Any pre-owned car that fits the criteria and is sold across Toyota's Aussie dealer network will come with a comprehensive 12 months/50,000km extended warranty and 12 months of roadside assistance. But isn't that much the same as what Toyota New Zealand has offered for years with its Signature programme?
MR drops the number two
Toyota MR2 - sounds innocuous enough. The name stands for Mid-engine, Rear drive, Two-seater. But with a French accent it can sound like "merdeux" ("shitter") or "emmerdeur" (an annoying guy) so the name was shortened to MR for that market.
And now for the serious stuff
US researcher Dr Gerald Judd is trying to convince everyone to brush their teeth with soap instead of toothpaste. He says soap does an excellent job, thickens tooth enamel and makes teeth less sensitive.
*Money well spent: scientists at Kyoto University have given helium gas to gibbons to see if they can yell as loudly at a higher-than-natural pitch.
*Italy's highest court has ruled that one man telling another, publicly, he has "no balls" can be criminal conduct warranting damages. The judge said the comment put at issue virility, competence and character.