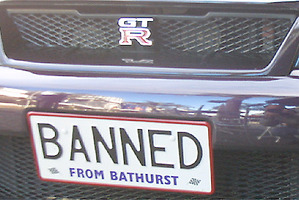 Police are clamping down on personalised number plates they say are confusing.
Christchurch motorists with plates using combinations of letters and numbers have received letters from police saying they intend cancelling them because they are not easily readable and are "not in the interest of road safety".
Police can apply to NZ Transport Agency (NZTA) - which authorises them - to have the plates cancelled.
One motorist contacted APNZ to complain about the letter he received from a Christchurch police officer intending to cancel his plate.
He refused to give his name, or his plate, but said it was a combination of numbers and letters.
Police are targeting number plates with sequences such as I111I1, Q0Q0OQ, or S3SS3S, which police say could cause accidents with other motorists trying to work it out and getting distracted.
But the motorist is fighting his case and believes it will lead to legal action.
"I'm furious about it," he said.
"They don't have a problem reading it when they issue me with a speeding infringement notice."
The NZTA has already confiscated two plates in Christchurch.
A police spokesman confirmed that under the Land Transport Act 1998 there is provision to apply for a plate to be cancelled if it is "offensive" or "confusing".
He confirmed that Christchurch police recently wrote to two people whose plates were deemed a "risk to road safety."
"This is due to the plates having a sequence of similar numbers and letters (eg ones and 'I's) and (zeros, 'O's and 'Q's), which the officer believes makes it difficult to accurately and easily identify the vehicle," the spokesman said.
"An application must then be made to the registrar of Land Transport, who considers the application. Police are currently working through this process."
- APNZ