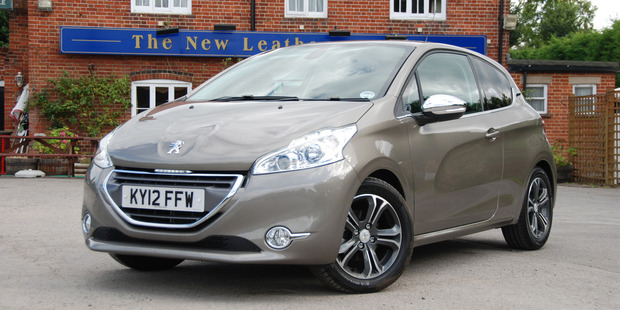 A UK drive of Peugeot's new 208 suggests it may erase poor impressions created by its immediate predecessors.
What's new
This 208 boasts a different numeral and a more engaging face but it sits atop the same platform as 207, with the same wheelbase and MacPherson strut front and torsion beam rear suspension. However, it has trimmed weight, with 60mm trimmed from the front overhang and 10mm from the rear. That's achieved without restricting cabin space, which Peugeot says is larger, thanks to the new design and slimmer seatbacks. My three-door car's rear couldn't make the most of it because of the limited access, but once back there headroom, especially, was generous.
The perky 1.2-litre three-cylinder engine I tried is 21kg lighter than the outgoing four-cylinder variant. In five-speed manual format I averaged 6l/100km over 190 largely urban and semi-urban kilometres, well above the 4.5 claim.
The company line: Peugeot NZ opens the range with a $23,990 1.2-litre VTI manual in "Active" specification, stepping to a $25,990 1.6-litre auto and the top-spec $28,990 1.6-litre auto Allure, all in five-door format with a seven-inch touchscreen as standard.
The cars go on sale on October 12. Peugeot division manager Simon Rose expects to sell 30 or more a month, with 11 cash deposits already taken, and says he's seen demand from clients migrating via other brands. He says a lot of people "fall in love with the three-door styling but opt for the five-door".
What we say
The three-door is a handsome little beast with an elegant air many small cars struggle to attain. The design imparts a more grown-up feel than the size suggests, while the cabin is smart and easy to use, finally boasting useable ergonomics and a comfy seat, a welcome departure from recent times. The Allure included shapely seats with contrast piping and a stylish flat-bottomed steering wheel; I'd have liked handier cupholders and a bigger glovebox though.
On the road
This is an impressive engine, that sounds far fruitier than its 1.2-litre capacity suggests.It makes the most of its 60kW and 118Nm, with a vigour that belies its modest capacity. It feels less sporting at open road speeds, but cruises comfortably. The UK's crowded roads prevented more than a capable impression, and an in-depth evaluation will await a New Zealand drive. The manual's clutch, with too much travel before take-up, is immaterial since we'll get only autos.
Why you'll buy one
You love the look, the flavour, and all things French.
Why you won't
Peugeot suspension absorbs the big hits alright but judging by this 208's performance on bumpy back roads it still transmits too many smaller jiggles to the cabin.