Secondhand luxury at first-class prices.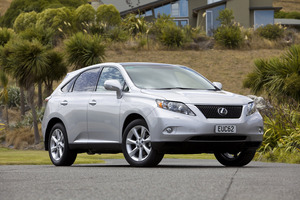 Matt is looking for a fuel-efficient SUV for the family and he has a big enough budget to have a wide choice of new and near-new vehicles.
"We'd love to buy a Toyota but there is a $30,000 gap between the RAV4 and the Prado (the only two 'efficient' models in their lineup)," says Matt. "The new Mazda CX5 looks awesome, but I'm wondering what else is available? It must be reliable and cheap to maintain - so I'm thinking Japanese rather than European."
Well, Matt, there is a significant difference between a RAV4 and a Prado which means they don't really compete on a head-to-head basis. Overall running costs cannot be compared either.
Your comment on the costs of maintenance is valid, however. Many buyers look only at fuel prices (diesel v petrol) and assume overall running costs will be lower. Servicing a diesel vehicle can be more expensive in comparison to petrol; however, some lifestyles definitely favour the compression ignition engine.
The shortlist
The budget: $65,000
Lexus RX350 Limited
The beauty of buying a second-hand luxury vehicle is benefitting from the significant depreciation these vehicles suffer within a relatively short time. A new RX350 Limited costs close to $117,000; a Lexus dealer was offering the 2009 example for almost half that ($60,000) with an odometer reading just under 60,000km. This represents great value for money if you want luxury, reliability and some added safety features you won't find in the mainstream vehicles sold new in the same price bracket.
With a claimed fuel consumption of 10.8l/100km the RX350 Limited is a brilliant all-round package - and it's hard to beat that smooth and quiet V6 petrol engine.
Mazda CX5
The CX5 has had positive reviews with its new SkyActiv engine technology designed to achieve hybrid-like fuel consumption. The claimed figures of 5.7l/100km for the diesel and 6.4l/100km for the petrol are impressive. The turbo diesel power unit has won the hearts of those who have driven both variants with the top of the range AWD Limited model retailing new for $55,990 (plus on-road costs).
Toyota Prado
Popular new and on the used market, where they tend to hold their prices better than most. It has the added advantage of 7-seats and, depending on model, they come very highly spec'd.
A hard vehicle to beat especially if towing is a priority. Claimed fuel consumption for the 3-litre diesel is 8.5 l/100km while the 4- litre petrol is 11.5l/100km.