Car thieves go for easy pickings but keep up with technology.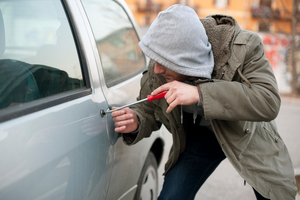 While flashy sports cars are indeed frequent targets among thieves - more than one in 10 Corvettes sold in the US over the past three decades is said to have been stolen at least once - for sheer pilfering popularity you can't beat the old family car.
The National Insurance Crime Bureau (NICB) recently released its annual "Hot Wheels" list of the most frequently stolen cars in the US, and the humble 1994 Honda Accord model beats all comers for thefts recorded during 2011, followed closely by the 1998 Honda Civic.
Fortunately, sophisticated anti-theft systems installed in late-model cars have helped reduce auto thefts in recent years. According to the FBI they were down by 3.3 per cent last year, and are at their lowest rate since 1967.
Unfortunately, it seems crooks are getting cagier about combating such technology. They're becoming adept at cracking the electronic key codes on select models and having replacement keys made by willing locksmiths. This enables a thief to simply turn a key and drive off with the vehicle otherwise unscathed.
"We are aware of nearly 300 thefts that took place in the first three months of this year in which we believe replacement keys using illegally obtained key codes were used to steal the vehicle," said NICB CEO Joe Wehrle.
"We are working closely with our member companies, law enforcement and the vehicle manufacturers to track these illegal key code transactions and stop the thefts or recover the stolen vehicles before they can be resold here or shipped out of the country to be sold overseas."
Though late-model sports and luxury cars tend to be swiped intact and sold with swapped identification numbers and laundered documents or sent to other countries, more-common models like these - especially older examples that lack the aforementioned key-code anti-theft technology - are usually driven or towed away and immediately dismantled at so-called "chop shops".
While the recoverable value of any of these dated models tends to be comparatively minimal, they're worth far more as an amalgam of salvaged used parts sold by unscrupulous vendors.
In New Zealand, it seemed Nissan was the car favoured by car thieves. The Aucklander studied the number of cars stolen in Auckland City, Waitemata and Counties-Manakau in the six months to the end of August and Nissan comes out on top as car of choice for thieves.
Of the 1111 cars police records show were stolen across Auckland in that time, 214 were Nissans, with the Terrano stationwagon being the most popular model stolen (30).
In the sedans, the Primera was the most popular model (21) followed by Skylines (19) and Pulsars (16).
Next targeted were Toyotas (160), Hondas (93), Mitsubishis (88) and Mazdas (74).
Top picks for thieves
The NICB's 10 most-stolen vehicles during 2011 were:
1994 Honda Accord
1998 Honda Civic
2006 Ford F-150 ute
1991 Toyota Camry
2000 Dodge Caravan MPV
1994 Acura Integra
1999 Chevrolet Silverado ute
2004 Dodge Ram ute
2002 Ford Explorer SUV
1994 Nissan Sentra