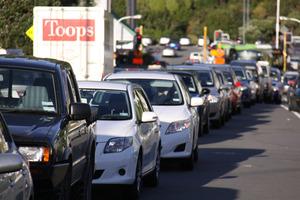 Upon arriving in foreign cities, most people focus on tourist landmarks, interesting architecture, local customs and clothes - even the local talent.
At the risk of sounding like a bit of an anorak, when I visit overseas I'm immediately mesmerised by the vehicles on the road, the way traffic works and how people behave at the wheel.
I'm writing this the night before the press day ahead of the Paris Mondial de l'Autombile - which we will bring you coverage of in the coming week. Having just returned from several hours wandering around the city I must say I'm glad I'm not driving here every day.
We think, often fairly, that Auckland traffic is a nightmare. As our driver told us on the way into town from the airport, Paris rush hour starts at 5am and finishes at 9pm. The motorways were a mad mix of hurried drivers busily trying to avoid helmeted hordes of motorbike and scooter riders splitting traffic left and right, one after the other.
These local heroes exhibit a level of bravery that I've only seen on the road in the form of Shanghai's lionhearted cyclists.
Motorways aside, the muddled flow of inner-city traffic here seemed driven purely by opportunity and luck.
One-way streets intersect major multi-lane roads, the horn is used to tap a traffic management morse by anyone who feels hard done by, or by members of the scooter legion just to make sure drivers know that they're there - although most drivers didn't seem to care.
And the legendary roundabout on the Champs-Elysees is everything it was cracked up to be. Before I came over, I was keen to have a crack at it - after seeing just how mad it is, I think I'd be best served to walk.