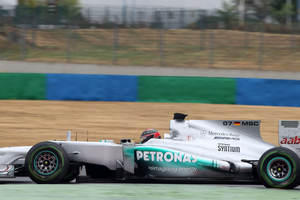 Late last week, seven-time Formula 1 champion Michael Schumacher helicoptered into a race track at Magny Cours in France to catch up with how testing of a Mercedes F1 car was going.
He needed to receive vital information about various things the team were trialling ahead of this weekend's Singapore Grand Prix. Testing the car was a Kiwi by the name of Brendon Hartley, who would one day like to be helicoptered around from one place to the next as a bona fide F1 driver.
What seemed fanciful two years ago, after Hartley was cut from the Red Bull F1 team, is not so fantastic now.
It's not that well known that the 22-year-old has been working for Mercedes as a simulator driver for the past year, testing every little detail in the hope of finding fractions of speed for the real car, but his expertise earned him a drive during a Young Driver Test.
Each team are allowed only three days each year and Mercedes opted for Hartley and regular test driver Sam Bird of Great Britain. Hartley completed 87 laps around Magny Cours (384km) and received positive feedback.
"It was a huge opportunity for me," he said from Belgium where he will compete in a classic cars endurance race this weekend. "If you asked me a couple of years ago, it was difficult to see how I was going to get back in a Formula 1 car. It's really, really good for me. You never know where it's going to lead. It probably came as a bit of a shock to a lot of people.
"People don't really know the significance of testing an F1 car. It's not something a lot of people get to do. It's quite special just to get the opportunity. It went really, really well. It couldn't have gone much better."
Hartley has little idea what it could mean but he's been around F1 enough to know he shouldn't get his hopes up.
He did that as an 18-year-old, when he was signed to the Red Bull programme. He acted mainly as a simulator driver but tested a Red Bull F1 car as well as another with sister outfit Toro Rosso.
In 2010 he was cut from Red Bull.
"It was hard for me after being so close, and I was very close," he says. "I don't have funding. Formula 1 these days is so reliant on how much you can bring to the table. Not having that, it was hard to see how it was going to happen. But I put my head down, worked hard and stayed focused. I'm not a Formula 1 driver yet but to even be back in the car and have a foot in the door is quite something.
"I felt a lot more prepared than what I was when I was 18 testing for Red Bull. Four years on it makes a difference.
"It was a lot quicker than I remembered, though. I was well prepared but, even so, you forget how quick a Formula 1 car really is and how quickly it propels you across the track. It's hard for the mind to comprehend, to think you are driving the quickest car on Earth."
Some people get to do it largely because of how much money they have in their helmets. In some respects, F1 is user pays and the user, who obviously requires some ability in the first place, needs to have millions.
For teams near the front of the grid, however, it's about driving ability only and Mercedes are fifth in the constructor's championship; with Nico Rosberg, who won in China in April, seventh and Schumacher 11th in the individual standings.
Schumacher has had a difficult year, earning only one podium spot and retiring from six of the 13 races to date, but the 43-year-old is easily the most successful of the current crop of drivers.
His rendezvous with Hartley was the first time they had met, and probably left more of a lasting impression on Hartley.
"He was really nice," Hartley said. "It's great to be part of a team with someone like that who has so much history."
Schumacher's contract is up at the end of this season and whether he returns next year could depend, according to talk in the pits, on whether Lewis Hamilton moves across from McLaren or they go with someone else.
Hartley's time, if it ever arrives, will be later but he also has options in other classes. He sees a career in the Le Mans Prototypes, a category of single-seater racing in which cars can reach maximum speeds in excess of F1, but doesn't know what he will be racing next year.
Some of that will be down to what Mercedes want him to do.
- APNZ