Goodwood: heaven for petrolhead history fans, writes Jacqui Madelin.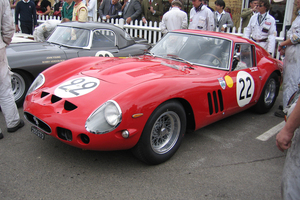 Sixty thousand people in fancy dress. Spitfires spiralling against a cloud-strewn autumn sky. A car crash that destroys $10 million worth of classic racers. A phalanx of 1930s-era "Silver Arrows" massed in the pits as they prepare to pitch Audi against Mercedes 80 years on, piloted by drivers as famous as the cars - Pink Floyd's Nick Mason and ex-F1 driver Jacky Ickx among them.
A Ferrari 250 GTO "parade" that includes 15 of the 39 ever made and which degenerates into a race, with cars worth $40 million harrying each other through the chicane as they try to break a 1m 20.4s lap record set by Jim Clark in a Lotus-Climax 25 and Jackie Stewart in a BRM P261 in the same race on April 19, 1965.
And among all this, mechanics, spectators and even concession stands built, manned, stocked and dressed to suit the 1930s to 1960s period covered by the cars, planes, and motorcycles taking part.
This is the Goodwood Revival - an annual celebration of petrolhead-life-gone-by held at the historic circuit adjoining the grounds of Goodwood House near Chichester, England.
You need eyes in the back of your head to take it all in. The 1940s-era Rolls-Royce dealership with its leather couches and Persian carpets was burgled on the Sunday by suit-clad gangsters wielding Thompson sub-machine guns, though correct-era British bobbies soon cuffed the miscreants and hauled them off, past period roadworkers and charladies squabbling over their buckets. A hairdresser delivered period-correct makeup and hairstyles to passers-by, Tescos stocked goods most participants under 40 have never heard of, and at prices we'll never see again.
The Earls Court Motor Show displayed cars current and future - the "future" dip in past represented by today's Fords, Jaguars and Mercedes. Classic car and bike owners bought parts from shops run as they were when their vehicles were new; ladies riffled through racks of period hats, fur coats and seamed stockings as they chose costumes for next year; and Laurel and Hardy leaped from an ancient Ford, whipped back the bonnet and revealed a tool box quickly raided by Troy Corser, who'd left his bike on pit lane in the hands of a 1960s hottie while he stole no, not spanners, but the sausage rolls Hardy kept hot beside the cylinders.
A camouflage-netted lump turned out to be a barista in a modern van - the only new vehicles allowed in are fire engines and ambulances, and he'd wangled an exception by hiding his vehicle from view.
Vintage buses ferried visitors, vintage car transporters collected dented classics from trackside and among it all, a World War II jeep carried a cameraman winding his old-style film camera as he recorded the organised mayhem.
The Goodwood revival recalls the glory days of this circuit, which from the 1940s to 60s ranked alongside Silverstone, hosting Formula One, endurance and Tourist Trophy events. And it's as famous as the Festival of Speed also held here - drawing such motorsport luminaries as John Surtees, the only man to win world championships on both two and four wheels, and Jackie Stewart, as well as media stars, with film star Ewan McGregor reportedly puttering about.
The venue is stunning. Goodwood Estate is home to the Earl of March, a car nut cited as largely responsible for the Rolls-Royce factory's location nearby. Car nut he may be, but one with a robust sense of humour and the vision to bring history back to life. Period dress is not compulsory except in the central paddock, though modern dress is so rare as to stand out.
My personal highlights? Watching a Lancaster bomber circle low overhead, escorted by a Spitfire and a Hurricane. Standing on the main straight while Dan Gurney - the man who invented the podium champagne spray after his 1967 win at the 24 Hours of Le Mans - popped another cork and sprinkled my crimplene costume while a line-up of cars he'd driven awaited a victory lap, a lap that would include a 1959 Maserati Birdcage, a BRM P48, Ferrari 246 Dino, Eagle Offenhauser and many more. Seeing Aston Martin DBR1s, Lister Jaguars and Maserati Birdcages wriggle out of the chicane. And last but not least, sitting in a 1954 drop-top Rolls-Royce worth a million dollars, and practising my royal wave as we wafted around a circuit.