NZ-made trophy will have a star role on world stage, writes Peter de Graaf.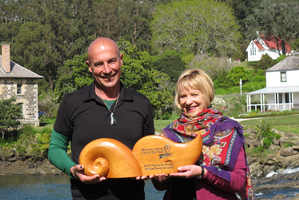 New Zealand will be thrust on to the world stage at one of the planet's biggest car shows this month.
But as our automotive chops don't stretch as far as they once did, Paris Motor Show attendees will get a glimpse of Northland when the trophy for Women's World Car of the Year is awarded.
Not only was the international competition founded by a Kiwi, but this year's trophy was carved in a shed in the Far North.
The trophy was to have been made in Holland, but when the Dutch failed to come up with the goods Women's World Car of the Year chief judge Sandy Myhre, of Kerikeri, had to find an alternative in a hurry.
Rather than panicking - which was certainly an option, Myhre said - she called Northland carver and former Far North mayoral candidate Hugh McKechnie.
He happened to have carved a piece of macrocarpa into a koru with a wing or tail-like form representing motion, without quite knowing what he was going to do with it.
A Kerikeri signage company came to the party, adding the award logo and title in inlaid paua.
"It was a sensational rescue package from Kerikeri and I'm enormously proud to take this trophy to Paris," Myhre said. "It'll be sitting on my lap all the way there."
She will present the trophy to the makers of this year's winner, the Range Rover Evoque, who will then put it on permanent display in their UK boardroom.
She will also be telling media about the trophy when it is handed over on September 27 at the Paris Motor Show, "so a small part of the Far North will be on the world stage".
Myhre, who has been a motorsports journalist for 30 years and is now editor of Focus magazine, published by the Northland Age, founded Women's World Car of the Year five years ago with two other female motoring writers, Liz Swanton of Australia and Caroline Carver of the UK.
It was a reaction to the male monopoly of the US-based World Car of the Year, which at that time did not have a single woman among the 43 judges on its panel.
That was despite women making up an estimated 49 per cent of all car purchasers, and women having an influence on 80 per cent of all car-buying decisions.
"Women were so poorly represented in the motoring industry, you just didn't see them being catered for," Myhre said.
"So I said, 'Let's start our own World Car of the Year'. It started as one of those throw-away lines."
The original Women's World Car of the Year panel consisted of eight judges from seven countries, with the first supreme winner the Jaguar XF. The trophy was made in South Africa and presented in London in 2010.
The next year saw a dead heat between the BMW3 Series and Citroen DS3. The two trophies were made in India and presented at the Frankfurt Motor Show.
Since then the judging panel has grown to 21 women from 17 countries, including Driven contributor Jacqui Madelin.
Myhre said her passion had always been to give women a greater voice in the car industry.
It is starting to pay off, with Women's World Car of the Year now recognised in Europe - although, ironically, not in New Zealand or Australia - as providing that long-overdue voice.