Kia's super-comfortable diesel Sportage needs a little more edge.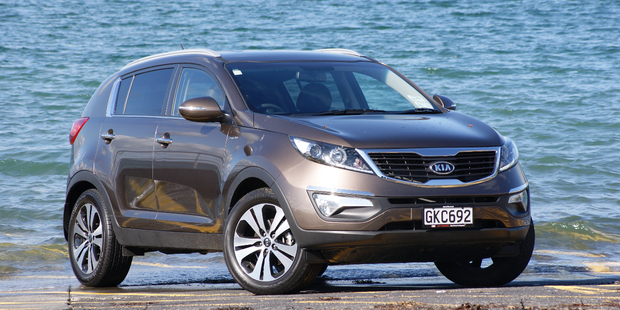 Say what you will about Kia design boss Peter Schreyer (I'd say he looks a lot like Paul Henry), but when he decides to do cartoonish styling there's no stopping him. I mean that in a good way.
This is the man who penned the original Audi TT, after all. As design chief he doesn't style every new Kia model directly, but he has set the template for his team: he's certainly injected a lot of wow-factor into Kia models, not only with his trademark "tiger nose" grille (which also seems to be repeated everywhere from the windscreen frame to the centre console) but with an outrageous sense of styling proportion. With the Sportage compact-crossover, especially.
I've always thought the Sportage looked like a Hot Wheels car: incredibly high waistline, "perched" lights front and rear and slivers of glass around a chop-top cabin. Massive alloy wheels are essential, of course. Outrageous but appealing.
Even in flagship Limited diesel form, the Sportage's driving dynamics do not live up to its looks. In reality, they probably never could. The 2-litre turbo diesel and six-speed automatic gearbox are a smooth combination, but the steering is worryingly light and the suspension is set up for comfort, at the expense of cornering prowess. This is despite a setup Kia says is tailored for New Zealand (read Australia) and the so-called Dynamax four-wheel drive system, with electronics that work with the stability control to apportion torque in a more proactive manner. It's safe, but not sharp.
In terms of a driving experience the Sportage is better than the rival Holden Captiva 5 and on a par with the Hyundai ix35 (as it should be, for they are twins under the skin). Less nimble than the new Mazda CX-5 or Toyota RAV4 diesel, though.
What the Sportage Limited does offer is the combination of a diesel powertrain with luxury-car equipment levels, which is still something of a rarity in this segment. Opt for a Captiva 5 or RAV4 in diesel form, for example, and you are limited to mainstream specification.
With the Sportage Limited, you're loaded up with leather seats that have eight-way power adjustment and two-stage heating up front, automatic lights/wipers, full iPod integration, a trick reversing camera display in the rear-vision mirror, keyless entry/start and privacy glass (which may be cheesy on any other car but looks great on a 1:1 scale Hot Wheels model).
That high waistline does affect occupant visibility - especially in the back. But the Sportage is still impressively practical, with 740 litres of luggage space and 60/40 split-folding rear seats.
A tempting combination of high style, diesel power and around-town comfort, then. You're getting plenty of equipment in the Limited, but $52,240 is still a lot of money for a mainstream crossover of this type. The BMW X1, for example, starts in the $50k bracket. Granted, that's an entry-level X1 compared with the flagship Sportage, but it's still worth making the point.