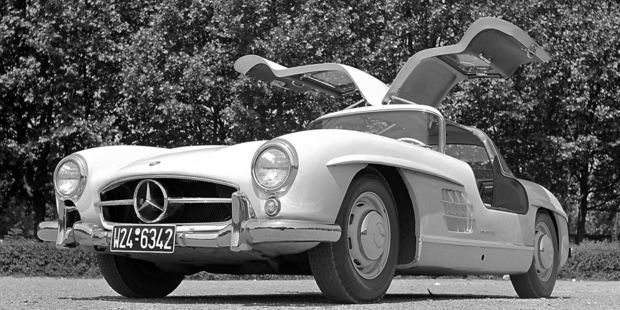 There are very few vehicle nameplates still around that carry quite the weight of the Mercedes-Benz SL. From its first days as a racecar in the 1950s it caught the imagination of the buying public - helped in spades by its ability to put drivers on podiums. Strangely, the impetus for this to be turned into a roadcar came from the Yanks.
American Mercedes-Benz heads were so taken with the long-bonnet, short-arse look that they actually pushed for it to make an appearance as a road-legal roadster. It did in 1954, although we were a little bit late in getting it way down here in Godzone as the world was a much larger place back then.
This was an era of stunning designs - Austin Healeys, Jaguars and, once America caught up, Corvettes and Thunderbirds. Of course where England headed for boring, the US headed for extravagance, while the Germans stuck to their guns and continued to serve up that beautiful roadster form, which really only faltered in the 1970s, albeit very, very slightly.
Jaguar is set to make a comeback, expected to reveal its new F-Type in production form just a few days before the start of this year's Paris Motor Show.
While the "new" Jaguar range is packed with some seriously sweet metal, there hasn't been anything that really carried the style that began on the race track with the C and D-Types until now. Its announcement in concept form at New York this year got the Jaguar tragics in an absolute lather. Which car maker do you think has truly managed to hold on to its heritage?