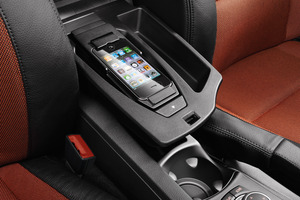 Those desperate to buy a new Apple iPhone 5 to match their M5 may want to think again.
Apple, which announced the new phone last week, also introduced a replacement for the decade-old 30-pin plug used on iPhone, iPad and iPod.
This makes many accessories obsolete, and while an adapter is available, it won't offer the same functionality in BMWs and Minis as the old one.
Listening to music will still be possible via Bluetooth audio streaming or the "Lightning" adapter and 30-pin connector or mini plug. BMW Apps and Mini Connected features will also work with the adapter, but using the maker's PlugIn feature, which allows video playback when stationary, or display mirroring, will no longer be used.
BMW America spokesman Dave Buchko told Wired magazine, "There is a lot we still don't know, but BMW has a long history of finding compatibility solutions for iPods and smartphones where none existed."
But there is good news for BMW Group. This week it has been ranked the world's most sustainable automotive company for the eighth consecutive year by the SAM Group for the Dow Jones Sustainability Indices (DJSI).
Among the three automotive industry enterprises listed each year, BMW Group is the only one to feature in the renowned index every year for 14 years.
"We strongly believe that sustainability is a key factor in the long-term economic success of the BMW Group. We are proud to be the sector leader in this important ranking for the eighth consecutive year - at the same time, it motivates us to continue to be a pioneer in corporate sustainability in the future," says Norbert Reithofer, chairman of the board of management of BMW AG.
In 2001, BMW Group committed itself to the United Nations Environment Programme, the UN Global Compact and the Cleaner Production Declaration.
The positive rating in the DJSI is the second time in a week that the company has been recognised for its commitment to sustainability.
BMW Group was also listed in the Global 500 Leadership Index published by the Carbon Disclosure Project (CDP), achieving its all-time best score.
With 99 of 100 possible points, BMW Group is sector leader and is among the top three companies from all sectors worldwide.