Cars and stars ready to celebrate as championship turns 10.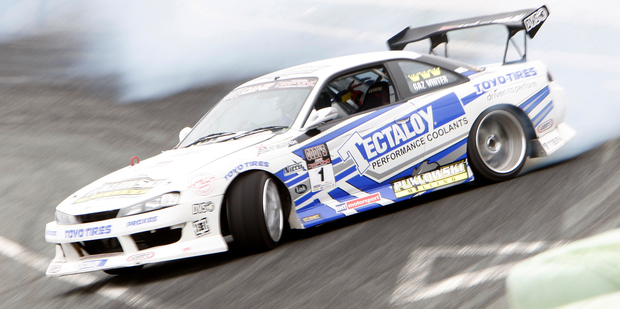 The D1NZ national drifting championship series will celebrate its 10-year anniversary this season with capacity fields in the D1 and Pro-Am categories and a new "taking it to the people" calendar - and might even include a challenge against some V8 SuperTourer talent.
"This is the summer that drifting in New Zealand is going to come of age," says D1NZ CEO Brendon White. "We've got the stars, we've got the cars, we've got a quick-fire format which is a proven crowd-puller and we've got rounds from Whangarei in the north to Christchurch in the south. It's going to be massive."
Crowd numbers have already increased by over 50 per cent since the move - two years ago - from a winter to a summer season with NZ's fastest growing extreme motorsport. And if early indications are anything to go by, White says, they could be up by that much again at some, if not all, rounds this season.
"The buzz started much earlier this year, back in July in fact, when we had our annual dinner and awards function. We've already got more entries than we have ever had before - close to 40 in D1 and between 30 and 40 for Pro-Am - and advance ticket sales are also well ahead of where they were this time last year."
White himself is particularly looking forward to the two "custom" rounds - at Whangarei in December and a new "summer spectacular" in Tauranga in January - as well as a return to the South Island, to Christchurch's Powerbuilt Tools Raceway at Ruapuna Park, in March.
"It's about taking the sport to the fans. Where the venues continue to work for us and our fans we'll continue to use permanent facilities like Manfeild and Hampton Downs, but it's the temporary ones which everyone - drivers and spectators alike - remember."
This summer's series kicks off at Manfeild in late October before heading to a new venue in Whangarei in December, a high-summer meeting at Tauranga in January, rounds at Hampton Downs and Christchurch's Powerbuilt Tools Raceway in March, before a grand final event at Pukekohe Park Raceway in April/May.
Entries already confirmed include those of 2011/12 D1NZ series champion Curt Whittaker (Nissan Skyline R34), high-profile Auckland-based international "Mad Mike" Whiddett (Mazda RX7) and former title-holders Gary "Gaz" Whiter (Nissan S14) from Dargaville and Daniel "Fanga Dan" Woolhouse (Holden Commodore).
The D1Pro-Am category will also have two female entrants in Tauranga's Jodie Verhulst (Toyota Supra) and Hamilton's Bex Bennett (Nissan Skyline) plus a huge influx of new drivers.
Last season's Pro-Am champion Cam Vernon (Nissan Skyline R32) is one of a number of drivers from that category stepping up to the D1NZ Pro ranks.
White is also working on a Legends Challenge that will see some of the top New Zealand D1 drivers take on their opposite numbers from Australia's V8 Supercar series and NZ's V8 SuperTourer series at the Hampton Downs round in March.